Post by jamie on Apr 3, 2015 15:10:05 GMT -8
Today, me and my dad went out for a day of birding for my birthday!
First, we went to Columbia Valley for bluebirds.
Evening Grosbeaks were very numerous, we counted 50+. American Robin would be our most numerous bird on the trip. We heard 13 Orange-crowned Warblers singing and calling throughout the drive.
On Maple Falls Rd, we checked a field for bluebirds. First, I spotted a male. My dad spotted 2 males and 2 females. Suddenly, 20 bluebirds flew out of the field to a field on Kosikar Rd. Then 9 more followed. That's 29 bluebirds in a day!!
They were all in a flock, so they must have been migrants.
We drove over to Kosikar Rd to try to find the bluebirds. They transitioned between the ground and posts. I got a couple pictures of a beautiful male.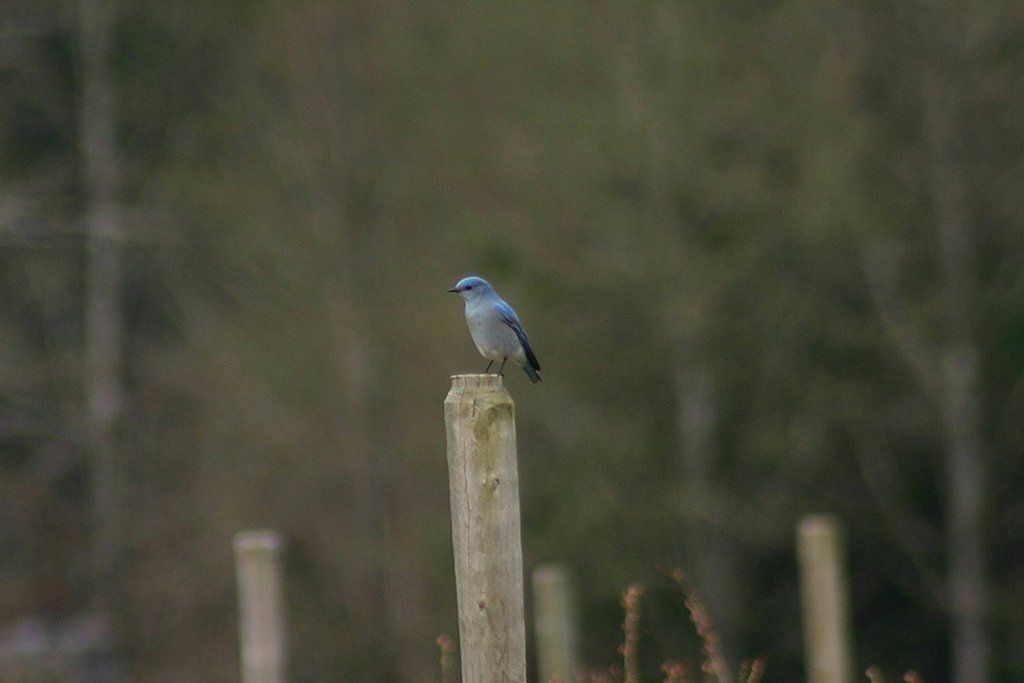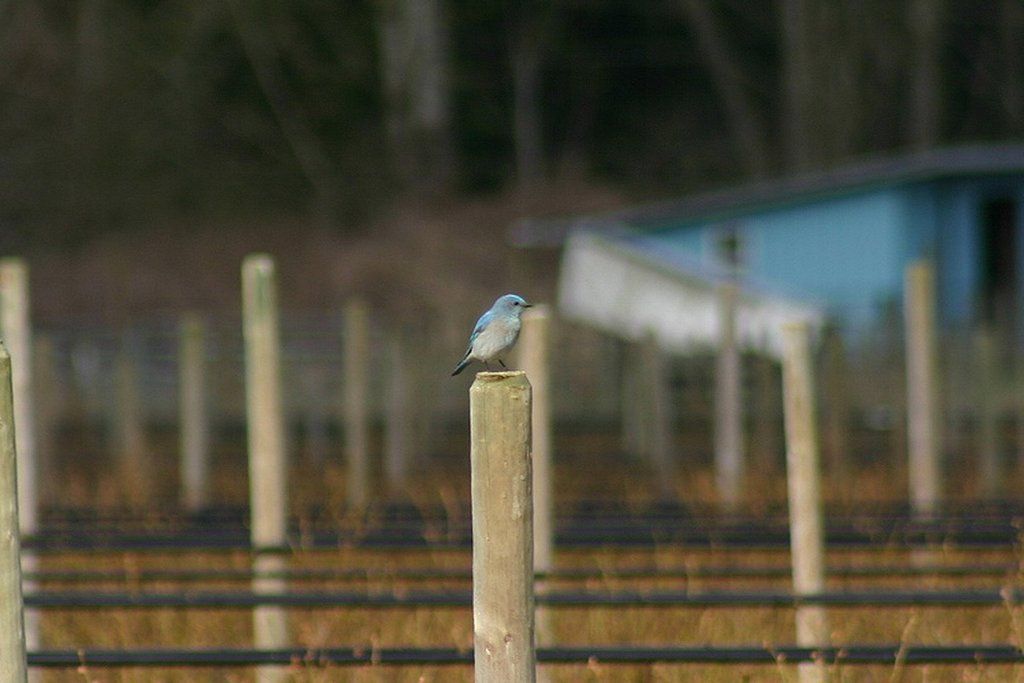 We did not see the Hutton's Vireo, which would've been a life bird.
We tallied 42 species. Here's the list.
Columbia Valley, Fraser Valley, CA-BC
Apr 3, 2015 9:35 AM - 12:15 PM
Protocol: Traveling
15.0 kilometer(s)
42 species
Canada Goose 9
Mallard 9
Bufflehead 3
Turkey Vulture 6
Bald Eagle 2
Red-tailed Hawk 3
Killdeer 6
Band-tailed Pigeon 1
Rufous Hummingbird 3
Red-breasted Sapsucker 3
Northern Flicker 5
American Kestrel 1
Merlin 1
Steller's Jay 6
Northwestern Crow 8
Common Raven 7
Tree Swallow 10
Violet-green Swallow 10
Black-capped Chickadee 2
Chestnut-backed Chickadee 10
Bushtit 2
Pacific Wren 5
Golden-crowned Kinglet 8
Ruby-crowned Kinglet 15
Mountain Bluebird 29
American Robin 80
Varied Thrush 4
European Starling 40
Orange-crowned Warbler 13
Yellow-rumped Warbler 5
Spotted Towhee 11
Savannah Sparrow 9
Fox Sparrow (Sooty) 1
Song Sparrow 9
White-crowned Sparrow 16
Golden-crowned Sparrow 1
Dark-eyed Junco (Oregon) 18
Brewer's Blackbird 3
House Finch 2
Pine Siskin 4
Evening Grosbeak 50
House Sparrow 10
View this checklist online at
ebird.org/ebird/view/checklist?subID=S22666567
This report was generated automatically by eBird v3 (http://ebird.org/canada)
Next, we went to Hope Airport for more bluebirds. At the north-east end my dad spotted an adult Loggerhead Shrike on some low shrubs. It was smaller than a Northern, with a short stubby bill, wider black mask, and darker gray overall. My dad instructed me to take lots of pictures while he went to get his camera. We took several pictures of it, and my dad also got some video of it impaling a beetle on a branch to eat. Obviously a lifer for me. It wasn't a lifer for my dad, but it was a new BC bird for him.
Here are my best shots of the Loggerhead. It was a bit far away, unfortunately.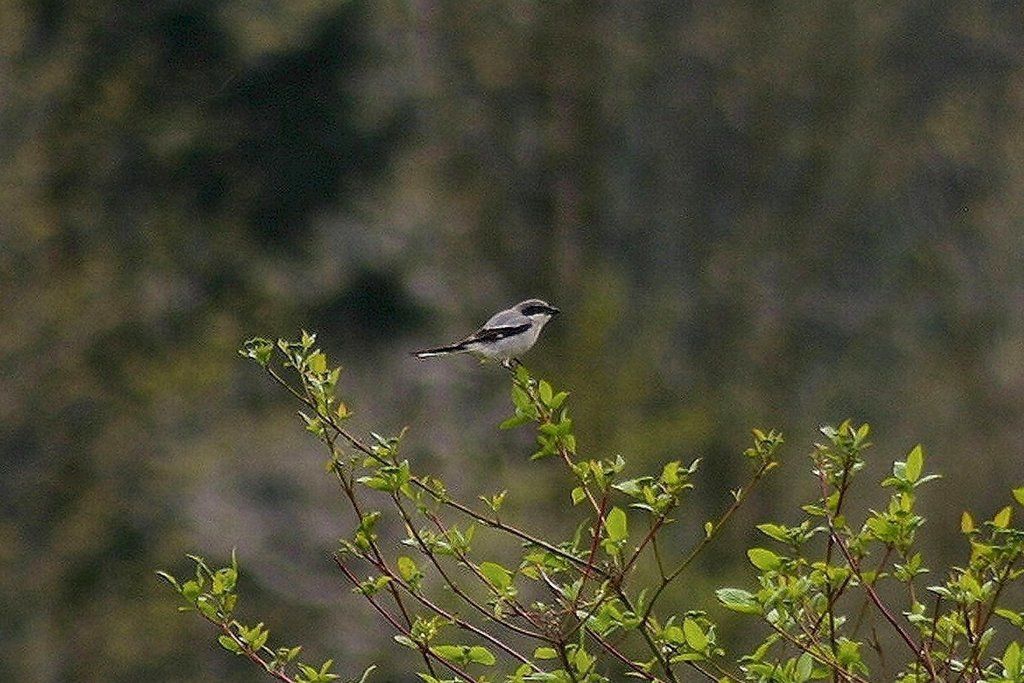 At the south-west end of the airport was a juvenile Northern Shrike. It's bill was longer, and its mask was thinner. He/she helped us to confirm that we indeed saw a Loggerhead.

Here's the list:
Hope Airport, Fraser Valley, CA-BC
Apr 3, 2015 2:00 PM - 2:40 PM
Protocol: Traveling
2.0 kilometer(s)
19 species
Mew Gull 3
Rufous Hummingbird 3
Northern Flicker (Red-shafted) 2
American Kestrel 1
Loggerhead Shrike 1
Northern Shrike 1
Northwestern Crow 2
Common Raven 2
Bushtit 2
American Robin 18
European Starling 2
Orange-crowned Warbler 1
Yellow-rumped Warbler 1
Spotted Towhee 2
Savannah Sparrow 1
White-crowned Sparrow 7
Dark-eyed Junco (Oregon) 20
Pine Siskin 2
American Goldfinch 1
It was a great outing! I got 1 lifer, Loggerhead Shrike.