Post by Gord on Jul 2, 2011 23:03:15 GMT -8
Great minds apparently think alike as I must have missed Chris by not too long as I stopped for half an hour on the road Google maps says is Chaumox Road but I dont think the street sign says it is.
I dropped in at Dogwood Valley. Lots of bird sounds including a family of Pine Siskins and a lone Western Kingbird.
On the way up, I stopped for a pit stop at Yale. Big Bad Bob Berry's Trading Post is still there. When I went fishing up at Yale we'd always stop for icecream. I'll never forget seeing these guys pull up in a car, one guy jumping out and grabbing a flat of cherries before driving off with squealing of tires. Anyway, one of my favourite signs was still up. The "Dont just stand there, let's eat!!" was unfortunately gone. That was the best one. ;D
On the side of the road at Spuzzum was this Veery that was out having a bath. Not often one sees them in the open like this. Poor photo at the distance.
Drying off in the bushes presented a more realistic view of this secretive species.
From Boston Bar and across the bridge into North Bend, I took the left after the tracks. Very busy with birds. Much of this was from the vehicle eating lunch with one hand and operating a camera with the other. I did some walking too.
Warbling Vireo
Red-eyed Vireo
An Orange-crowned Warbler peeked up.
Nashville Warbler
Purple Finch
I saw a female American Redstart where Chris saw it. I was lucky as the male was not far behind actively chasing insects. That orange on black makes for a very dazzling bird.
After chasing some kind of moth around out from the leaves it paused for a very brief moment.
A highlight was this bird which I have determined is a hybrid between a Lazuli and Indigo Bunting. Indigo Buntings are very rare around here but common in the East. The lack of a rusty breast band, diffused wingbars and colours going down the flanks and belly tell the tale. I noted also the blue was different being darker than a Lazuli (not dark enough for a Indigo but close). He was actively singing and his song seemed perfect Lazuli. Ive read that in some species of bird that the song is learned by the young bird from listening to the male (Dad) sing. If this is the case, then the Indigo half was a female. Conjecture, but pretty cool if I say so myself.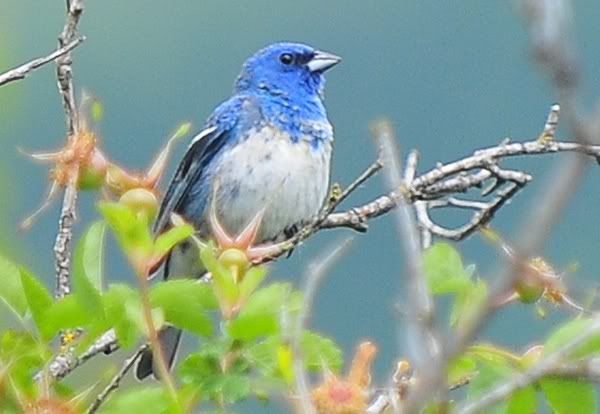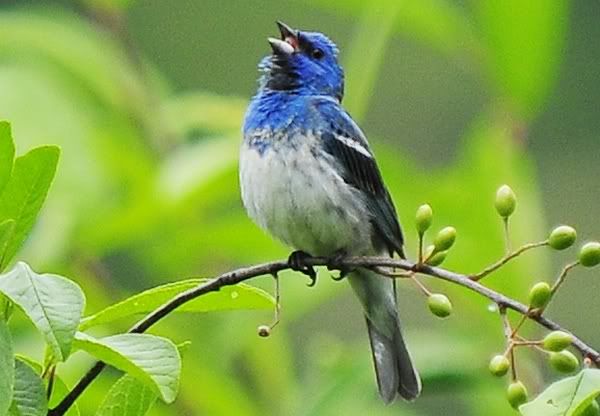 A male Lazuli in the same lighting and exposure for comparing the blue. This was right at the end as I was driving to turn around to leave.
Not bad for a half hour! A great little place. Always worth a stop when in the neighborhood.