Post by Gord on Sept 4, 2008 22:55:00 GMT -8
Stan and his wife couldnt make it this morning, but I went out anyway after getting an early start to the day.
Down by the boatlaunch, I saw this guy. I thought Mallard at first, but turns out to be a Harlequin Duck! He/she (not sure if a juvenile or a female) was pretty active picking at stuff off the top of the water.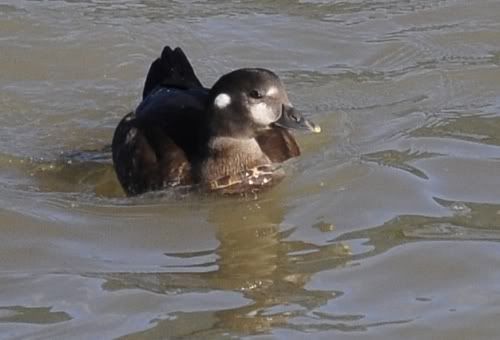 There were plenty of Lincoln's Sparrows about today which is very typical for early September. Such a pretty sparrow.
Then, the second goody of the day was down at the edge of the Fraser at the parking lot. This is exactly where I saw last year's Vesper Sparrow, but that one was not about to have a bath! I was delighted to watch him check for danger at the edge of the water, then jump right in. I got good views at the end as he came ashore to dry off.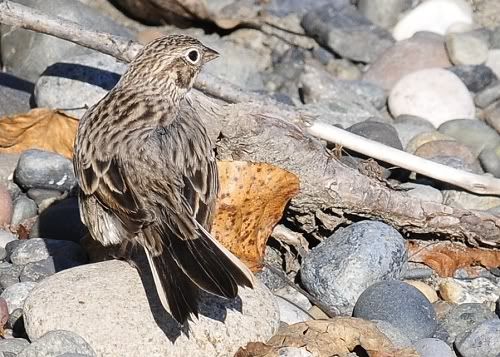 Lots of Vireos today and the most Red-eyed I have seen for a while. Many were eating the snowberries.
A few Evening Grosbeaks were about as well and were also enjoying the snowberries.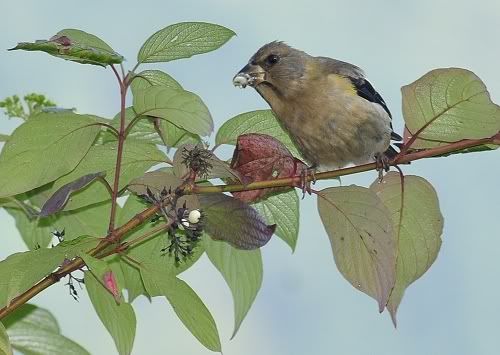 It was on the quiet side for warblers but did see Wilson's, Yellow-rumped, Yellow, Black-throated Grey, Orange-crowned, Common (Yellowthroat) and MacGillvray's. The Mac's was not keen to get his picture taken.
I was surprised today to have only seen Western Wood-pewees representing the flycatchers.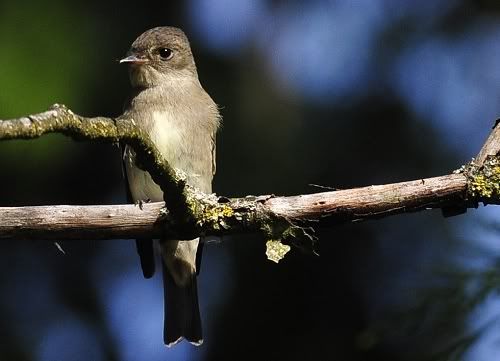 There must have been almost 100 Cedar Waxwings. Lots of juveniles and more than a few begging for food from the adults.
Turkey Vultures are in good migration numbers. I counted five going over when in places where I could see the sky.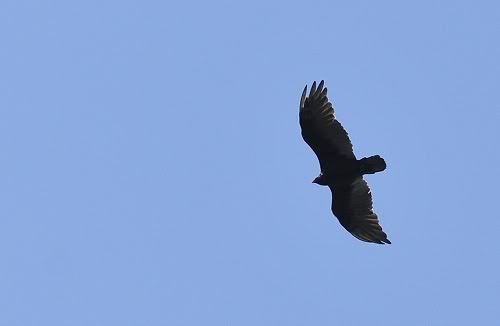 I was alerted to nearby Brown Creepers by their "ding-ding" call as they worked their way up the tree trunks.
There were both Downy and Hairy Woodpeckers today. There was a family of three Downys feeding together in one area.
Hairy (sorry for the flash!)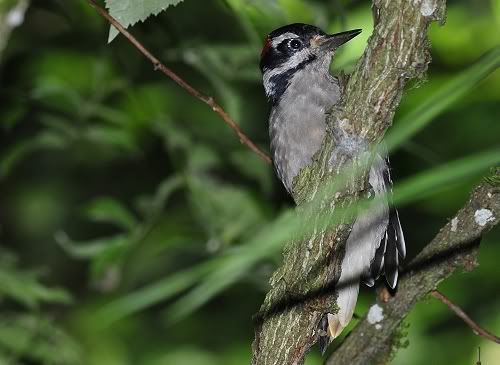 Downy
Plenty of Western Tanagers but not widespread; I found them in groups of up to 8-10.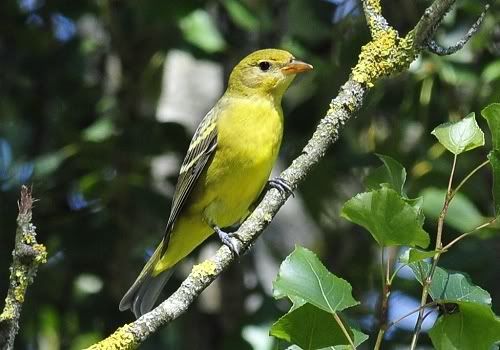 The last couple of highlights were a Chestnut-backed Chickadee (uncommon in the area) and a Grey Catbird. I located it when I heard it meowing a couple of times in the western part of the equestrian area. True to their nature, it did not show much of itself for a photo. All in all, 40 species for the morning.
I might as well briefly share about Sept 1 when Bill (William Clark) and I did a little birding in the morning and located 48 species. Highlights where the Lazuli Bunting family, two American Pipits, a Fox Sparrow, Olive-sided Flycatcher and a Pileated Woodpecker who hammered away at a dead part of a tree almost right next to Bill's car (causing him to get all his camera gear back out for photos!)