Post by paulos on Jul 21, 2021 17:41:02 GMT -8
It's been a while since I gave an update. It's been a busy spring for the family, but I did find some time to get out.
In April I started a nocturnal owl survey route in the Interlakes area, and I found a calling Long-eared Owl just outside the survey area when I stopped to get ready. I was surprised given the altitude.
I made a drive up to the snowy Mount Timothy ski area near Lac la Hache. The ski hill was closed, but I found Gray-crowned Rosy Finches along the road.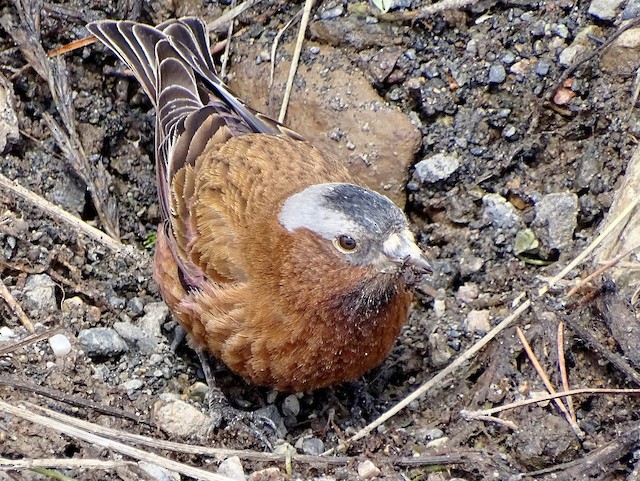 Walker Valley in the 108 Mile area has been my go-to spot. The spring songbird influx was magnificent, with Yellow-rumped Warblers sometimes in the hundreds. I found a good number of Myrtle Warblers and about half as many intergrades. I've found one or two in their presumed breeding areas north of here; it's made me skeptical that these subspecies should ever be re-split.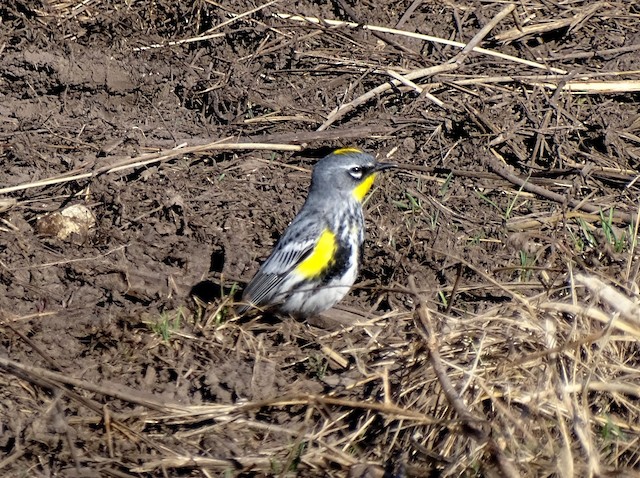 Though it's small, Walker Valley is something of a minor flyway north to Lac la Hache and Williams Lake. I encountered stopover Cackling and Greater-white Fronted Geese, and flyover Snow Geese (Cackling being the rarest of the three). Three Caspian Terns also surprised my flying through to the north.

Greater-white Fronted Geese.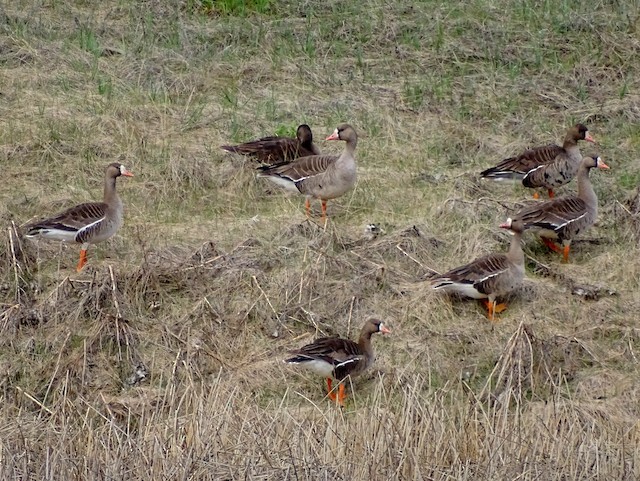 Pelicans on a stopover in Walker Valley.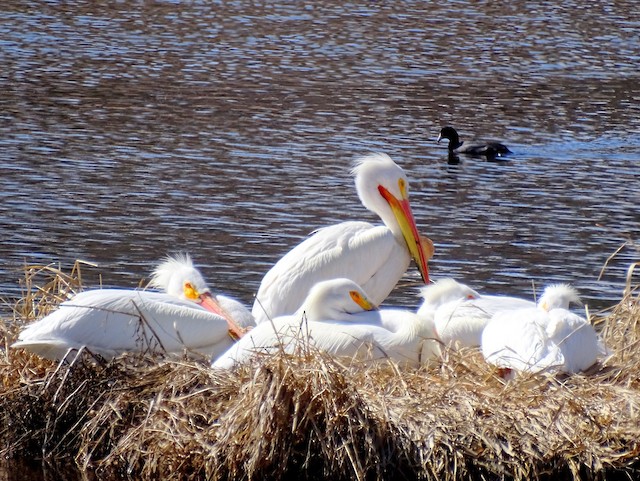 108 Mile Lake has regular breeding Red-necked Grebes, and I came across a couple of Long-tailed Ducks there in April. Long-tailed Ducks make regular spring stops at some of the larger lakes. I also saw them on Watson Lake and Green Lake this year (more than a dozen!), often alongside Surf and White-winged Scoters. White-winged Scoters may breed nearby; I did find one pair in June and there are past records. I'll be keeping my eye out for juveniles.

Red-necked Grebe at 108 Mile Lake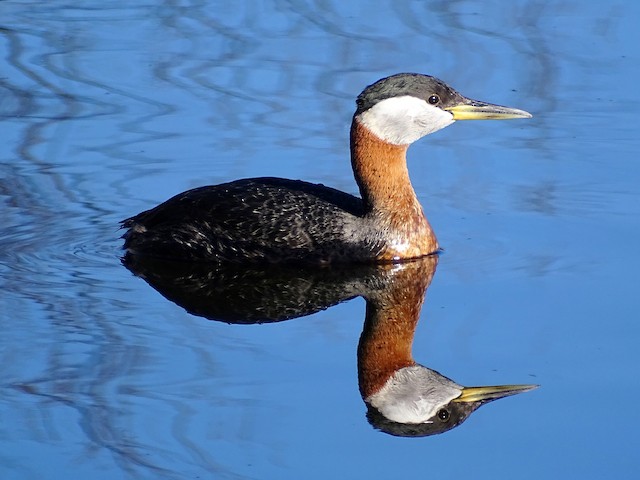 I didn't have as much time to get out during the May shorebird rush, but I tried a little bit of shorebirding at Mud Lake in 100 Mile House and Canim Lake. A couple of years ago I found
Graham Lakes
on Google Maps, near Green Lake, which appeared to have good shorebird habitat. It did prove to have breeding American Avocets this year, and I was able to catch one Black-necked Stilt. This and
Soda Lake
near the 108 have become regular shorebird spots for us local birders.
One day in late June I was able to take a trip north to Quesnel and Wells to find Magnolia, Tennessee and Blackpoll Warblers, a Fox Sparrow, and my Cariboo-first Red-breasted Sapsucker.

In early July I took a job doing survey of a few wildlife areas in the central Chilcotin near the Puntzi Lake/Chilanko Forks/Redstone area. I've had mixed feelings about the area. It is a long, flat plateau with stunted pines because of extensive logging and forest fires. But these areas proved to be a real treat. Chilanko Marsh is a long system of sloughs ponds along the Puntzi Lake airport. I found 89 species there over two days at the Marsh, including a singing Swamp Sparrow outside (or at the edge of?) its normal breeding range and a singing Tennessee Warbler. I found possible evidence of breeding Greater and Lesser Yellowlegs at the nearly inaccessible Chilcotin Lake. The nearby Chilcotin Marshes complex reminded me of being at a coastal marsh or the Creston wildlife area because of the size—large for the Cariboo anyway, boasting a large Black Tern colony. Red-breasted and Red-naped Sapsuckers intermingle in the area, and I came across a hybrid at Chilanko Marsh. I also spotted Red-shafted and Yellow-shafted Flickers in the same tree. A Lewis's Woodpecker on a burn on my way home was a nice conclusion to the survey trip.

A hybrid Sapsucker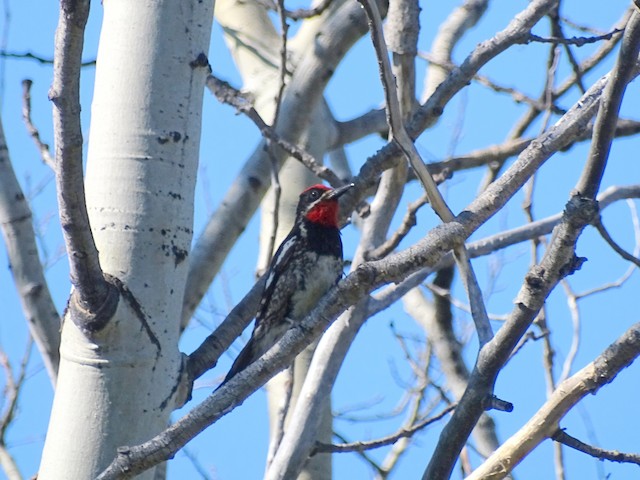 In the last week or so the first shorebirds have started heading south. The water level at Walker Valley has finally dropped, leaving some muddy islands that have attracted both Yellowlegs, a Semipalmated Plover, a Semipalmated Sandpiper, Long-billed Dowitchers and Pectoral Sandpipers. This morning I tried to take a quick count of the ducks and shorebirds there when I was surprised by a
White-faced Ibis
!! It's the second Cariboo record; the first was earlier this year. There seems to be quite the BC influx going on.
I'm up to 201 species for the year in the Cariboo and 229 for my life list (gunning for my 234 from the Fraser Valley). Other than my trip to the Chilcotin and one day up to Quesnel, I've been sticking pretty close to home. There should be some easy birds to find if I get out more to higher and wetter habitats in the east or drier habitats along the Fraser.

My Cariboo birds from this year:
1 Snow Goose
2 Greater White-fronted Goose
3 Cackling Goose
4 Canada Goose
5 Trumpeter Swan
6 Tundra Swan
7 Wood Duck
8 Blue-winged Teal
9 Cinnamon Teal
10 Northern Shoveler
11 Gadwall
12 Eurasian Wigeon
13 American Wigeon
14 Mallard
15 Northern Pintail
16 Green-winged Teal
17 Canvasback
18 Redhead
19 Ring-necked Duck
20 Greater Scaup
21 Lesser Scaup
22 Surf Scoter
23 White-winged Scoter
24 Long-tailed Duck
25 Bufflehead
26 Common Goldeneye
27 Barrow's Goldeneye
28 Hooded Merganser
29 Common Merganser
30 Ruddy Duck
31 Ruffed Grouse
32 Dusky Grouse
33 Pied-billed Grebe
34 Horned Grebe
35 Red-necked Grebe
36 Eared Grebe
37 Western Grebe
38 Rock Pigeon
39 Eurasian Collared-Dove
40 Mourning Dove
41 Common Nighthawk
42 Black Swift
43 White-throated Swift
44 Rufous Hummingbird
45 Calliope Hummingbird
46 Virginia Rail
47 Sora
48 American Coot
49 Sandhill Crane
50 Black-necked Stilt
51 American Avocet
52 Semipalmated Plover
53 Killdeer
54 Long-billed Curlew
55 Least Sandpiper
56 Pectoral Sandpiper
57 Semipalmated Sandpiper
58 Long-billed Dowitcher
59 Wilson's Snipe
60 Wilson's Phalarope
61 Spotted Sandpiper
62 Solitary Sandpiper
63 Greater Yellowlegs
64 Lesser Yellowlegs
65 Bonaparte's Gull
66 Mew Gull
67 Ring-billed Gull
68 California Gull
69 Herring Gull
70 Caspian Tern
71 Black Tern
72 Arctic Tern
73 Common Loon
74 Double-crested Cormorant
75 American White Pelican
76 American Bittern
77 Great Blue Heron
78 White-faced Ibis
79 Turkey Vulture
80 Osprey
81 Golden Eagle
82 Northern Harrier
83 Sharp-shinned Hawk
84 Cooper's Hawk
85 Bald Eagle
86 Red-tailed Hawk
87 Rough-legged Hawk
88 Great Horned Owl
89 Northern Hawk Owl
90 Northern Pygmy-Owl
91 Long-eared Owl
92 Northern Saw-whet Owl
93 Belted Kingfisher
94 Red-naped Sapsucker
95 Red-breasted Sapsucker
96 Lewis's Woodpecker
97 Black-backed Woodpecker
98 Downy Woodpecker
99 Hairy Woodpecker
100 Pileated Woodpecker
101 Northern Flicker
102 American Kestrel
103 Merlin
104 Peregrine Falcon
105 Olive-sided Flycatcher
106 Western Wood-Pewee
107 Alder Flycatcher
108 Willow Flycatcher
109 Least Flycatcher
110 Hammond's Flycatcher
111 Dusky Flycatcher
112 Pacific-slope Flycatcher
113 Say's Phoebe
114 Western Kingbird
115 Eastern Kingbird
116 Cassin's Vireo
117 Warbling Vireo
118 Red-eyed Vireo
119 Northern Shrike
120 Canada Jay
121 Steller's Jay
122 Blue Jay
123 Black-billed Magpie
124 American Crow
125 Common Raven
126 Black-capped Chickadee
127 Mountain Chickadee
128 Horned Lark
129 Northern Rough-winged Swallow
130 Tree Swallow
131 Violet-green Swallow
132 Bank Swallow
133 Barn Swallow
134 Cliff Swallow
135 Golden-crowned Kinglet
136 Ruby-crowned Kinglet
137 Red-breasted Nuthatch
138 Brown Creeper
139 Pacific Wren
140 Marsh Wren
141 American Dipper
142 European Starling
143 Gray Catbird
144 Mountain Bluebird
145 Townsend's Solitaire
146 Varied Thrush
147 Veery
148 Swainson's Thrush
149 Hermit Thrush
150 American Robin
151 Bohemian Waxwing
152 Cedar Waxwing
153 House Sparrow
154 American Pipit
155 Evening Grosbeak
156 Pine Grosbeak
157 Gray-crowned Rosy-Finch
158 House Finch
159 Purple Finch
160 Common Redpoll
161 Red Crossbill
162 Pine Siskin
163 American Goldfinch
164 Lapland Longspur
165 Snow Bunting
166 Chipping Sparrow
167 Clay-colored Sparrow
168 American Tree Sparrow
169 Fox Sparrow
170 Dark-eyed Junco
171 White-crowned Sparrow
172 Golden-crowned Sparrow
173 White-throated Sparrow
174 Vesper Sparrow
175 Savannah Sparrow
176 Song Sparrow
177 Lincoln's Sparrow
178 Swamp Sparrow
179 Spotted Towhee
180 Yellow-headed Blackbird
181 Bobolink
182 Western Meadowlark
183 Bullock's Oriole
184 Red-winged Blackbird
185 Brown-headed Cowbird
186 Brewer's Blackbird
187 Northern Waterthrush
188 Tennessee Warbler
189 Orange-crowned Warbler
190 Nashville Warbler
191 MacGillivray's Warbler
192 Common Yellowthroat
193 American Redstart
194 Magnolia Warbler
195 Yellow Warbler
196 Blackpoll Warbler
197 Yellow-rumped Warbler
198 Townsend's Warbler
199 Wilson's Warbler
200 Western Tanager
201 Lazuli Bunting
Additionally, being close to Clinton and Kamloops, I've added a few birds to my Thompson-Nicola list, including Rock Wren, Greater White-fronted Goose, Peregrine Falcon, Pacific-slope Flycatcher, and Bobolinks. The latter seem to breed in Mound Valley in Clinton. Here is a recent Lark Sparrow near Cache Creek: