Post by Chris on Apr 24, 2013 20:03:19 GMT -8
Yesterday morning I explored Columbia Valley. I was trying for Hutton's Vireos once again but was not successful. The highlight was a calling Pacific-slope Flycatcher. Very early arrival in our region. There is a flooded part in a field which had Ring-necked Ducks and a lone Bufflehead. Very surprised to see them. Also saw two Red-breasted Sapsuckers. Good area for them. Tallied 37 species.
White-crowned Sparrow. There are very numerous. Wouldn't be surprised if there are 200-300 up there.
Deer. Saw three of them.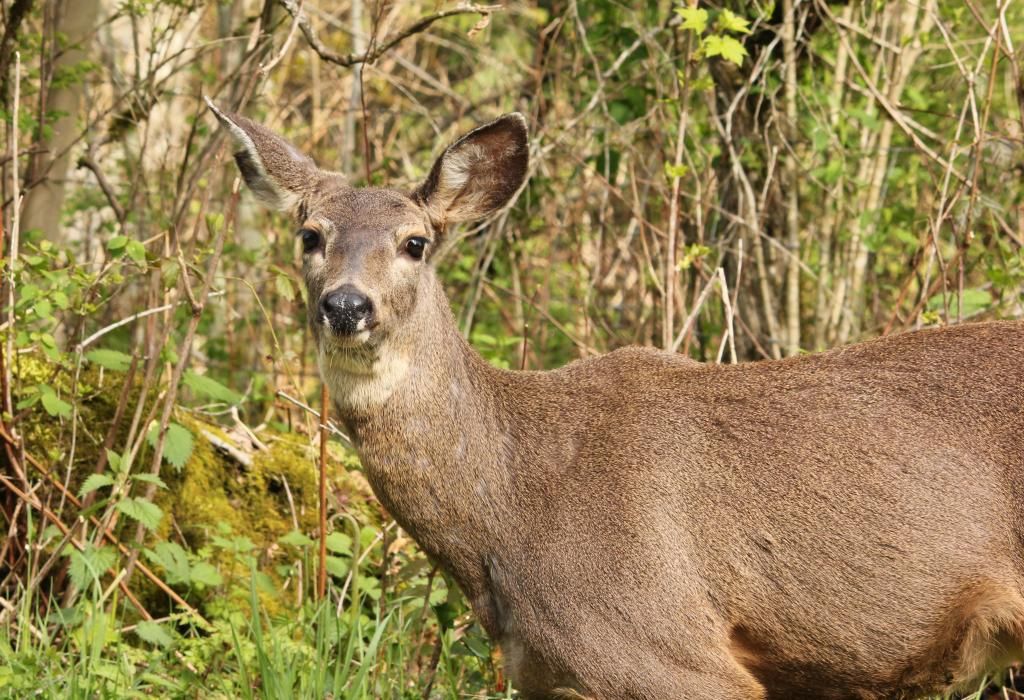 Columbia Valley list
Ring-necked Duck 3
Bufflehead 1
Bald Eagle 1
Red-tailed Hawk 1
Rufous Hummingbird 7
Red-breasted Sapsucker 2
Downy Woodpecker 1
Pacific-slope Flycatcher 1
Steller's Jay 8
Northwestern Crow 20
Common Raven 50
Tree Swallow 16
Violet-green Swallow 8
Black-capped Chickadee 14
Chestnut-backed Chickadee 8
Red-breasted Nuthatch 1
Brown Creeper 5
Pacific Wren 7
Golden-crowned Kinglet 4
Ruby-crowned Kinglet 5
American Robin 150
Varied Thrush 3
European Starling 5
Orange-crowned Warbler 7
Yellow-rumped Warbler 16
Black-throated Gray Warbler 3
Spotted Towhee 4
Savannah Sparrow 5
Song Sparrow 6
White-crowned Sparrow 70
Dark-eyed Junco 12
Red-winged Blackbird 6
Purple Finch 2
House Finch 6
Pine Siskin 50
American Goldfinch 2
Evening Grosbeak 70
I went to Island 22 this morning. It was not very active. Probably the quietest it has been in a while. River has gone up a fair amount. There was a Common Loon in the pond near the entrance. I have seen one there for the past four years around this time. I have always wondered if it is the same individual.
List for Island 22
Canada Goose 2
Wood Duck 1
Mallard 6
Bufflehead 1
Common Loon 1
Great Blue Heron 1
Turkey Vulture 2
Mew Gull 30
Rufous Hummingbird 3
Belted Kingfisher 1
Downy Woodpecker 2
Steller's Jay 3
Northwestern Crow 4
Common Raven 1
Tree Swallow 12
Violet-green Swallow 4
Black-capped Chickadee 6
Bushtit 5
Brown Creeper 2
Pacific Wren 6
Bewick's Wren 2
Golden-crowned Kinglet 4
Ruby-crowned Kinglet 5
American Robin 25
Orange-crowned Warbler 4
Yellow-rumped Warbler 16
Spotted Towhee 9
Song Sparrow 6
Dark-eyed Junco 2
Purple Finch 4
Pine Siskin 30
American Goldfinch 4
Evening Grosbeak 6