Post by Gord on Oct 31, 2013 22:15:03 GMT -8
Russ Cannings and Don Cecile have brought forth a strong suggestion that the Ash-throated Flycatcher reported from Island 22 on Tuesday is possibly a Great Crested Flycatcher which would be a considerably rarer bird as it is pretty dedicated to living in the eastern half of the country while the Ash-throated occurs to the south of us and is more prone to going further north than it should (as opposed to flying over the Rockies).
Now not to try and unduly suggest I was thinking the same thing at one point, but as I was looking at my photos on the night of the discovery a few things prompted a flurry of texts back and forth between Chris and myself.
I thought the bird felt a bit hefty, but then I questioned how much merit that has given I have not seen many of this genus of bird.
The bill looked a bit bigger and longer than I would expect and the pale colouring at the base certainly did not work for my initial opinions of what an Ash-throated should have. I did some research and did find some suggestion that younger Ash-throated Flycatchers
may
have some pale at the base. So I put a mental check mark beside Ash-throated again.
The tail has rufous colouring to the tip; a trait Great Crested has but allegedly juvenile Ash-throateds do as well. With support from the previous check mark I put beside Ash-throated on the bill aspect, I did another check mark for the tail aspect for Ash-throated.
The colouring on my unedited photos showed a fairly strongly yellow-bellied bird (actually the first aspect that stuck out to me maybe not so much in the field but on the photos). But, the sun was low in the sky at the time and my camera seems to accentuate yellow tones in these situations (see my shots of the Phillidelphia Vireo from Island 22 a few years back taken almost at the same time of day etc. The bird was yellow no question but my camera made sure no one missed that fact). So, after reducing the yellow wash to what I thought seemed to be a more natural display of colour, I thought the yellow was not so 'bad' and considering my other thoughts, went with Ash-throated. Chris came up with similar thoughts at the end.
Anyway, here is the unedited photos.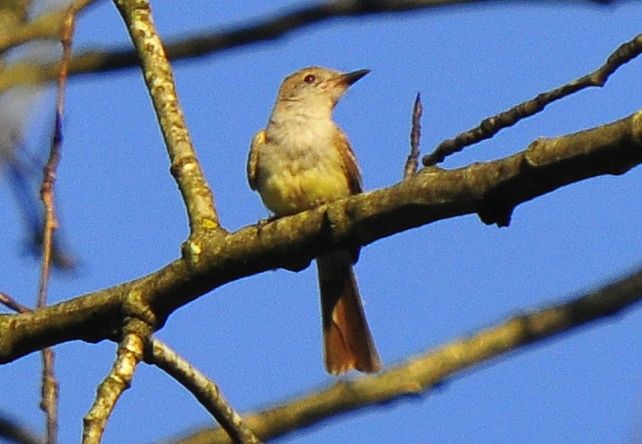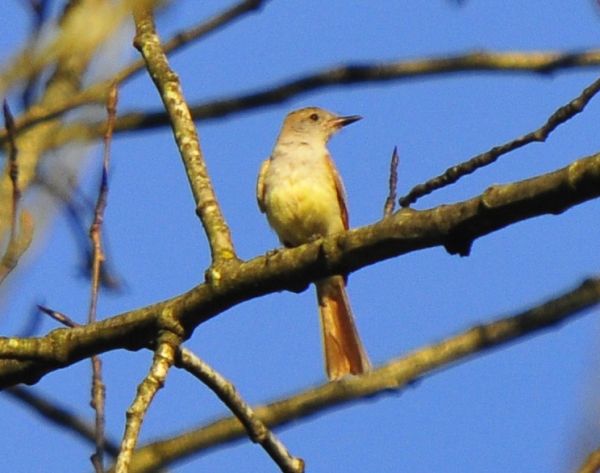 And after a little work in photoshop I came up with these which may have caused a few days delay on others going out to see a very good bird for BC (if it does end up being a Great Crested)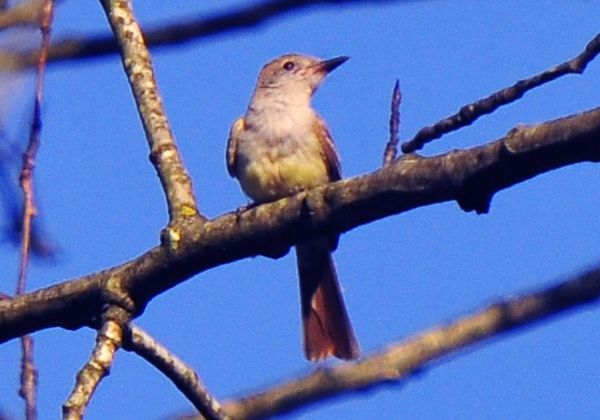 Comments and thoughts welcome. I will share the opinions others have who are not members of the site as they come (with their permission).