Post by Gord on Oct 25, 2012 21:16:57 GMT -8
Busy day and had lunch a little later in the afternoon. Drove the airport eating a sandwich that would have been a little less soggy if eaten sooner. The birding part started slowly with a handful of American Robins feeding on the Mountain Ash berries, a few Dark-eyed Juncos, plenty of Song Sparrows and a beautiful pair of Purple Finches that posed nicely.
Towards the southeast corner I spied a cat on the side of the road which caused me to grumble as only a bird enthusiast can. Correctly reading the look in my eye, the cat slunk off into the small trees and shrubs that grow in the east side of the airport. Now, as I had pulled up I was hearing the scolding calls of a few Bushtits, Song Sparrows and a towhee or two. I had just assumed that the birds had joined me in sharing their opinion of the cat. A few seconds later an owl flew up out of the shrubs and headed right towards me. A Long-eared Owl! I got fantastic looks as it passed and was once again surprised at how small these guys really are. About the size of a crow. It flew across the road towards the tracks and did land but I couldnt find it. I guess the cat must have scared the owl and the small birds fussing was likely more about the owl than the cat. Long-eared Owls like to roost lower down in the tangle of shrubs and bushes so the cat would have concerned the owl. I apologize, almost, for my uncharitable thoughts towards the cat.
Around the corner and on the north side a pair of Mountain Bluebirds were catching insects off the ground like they do.
A young male.
A female
As I was enjoying the bluebirds, I heard some Lapland Longspurs flying in from the north. There were nine of them and they landed somewhere out on the airport. There were also a pair of Savannah Sparrows messing around in the grass. Lots of Song Sparrows too. On the sparrow note, I caught a glimpse of a sparrow that looked different. If anyone paid attention to the subject line of this post you wont be surprised when you hear it was an American Tree Sparrow. A beauty and it was quite actively feeding on the ground, on the Goldenrod seeds and even did a little flycatching as it flew out and grabbed a flying insect. I was a little surprised to see that.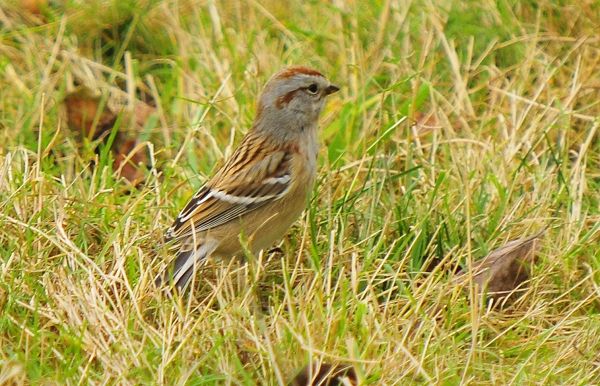 A really great 25 minutes with some great birds (and a silly cat) to share lunch with.
And I just love this deciduous tree up on the mountain. All surrounded by conifers for quite a distance!