Post by Dave on Aug 28, 2011 21:29:16 GMT -8
Hello Birders,
John, a collegue of mine, and I decided to take a day the last day of our summer vacation in the mountains before heading back to work this week. He is never one to back down from a challenge, and we decided to try a "scramble" up Baby Munday, one of the peaks behind Cheam and Lady Peak.
To get there we drove up Airplane Creek FSR instead of Chipmunk Creek FSR which takes you to Mount Cheam's trail. After initially driving past the trailhead, we eventually found it. The trail was overgrown for decent portions, but still visible. However, the destination was an alpine meadow and our goal was to summit Baby Munday which would mean doing some "scrambling". I have only recently been introduced to the word 'scramble', and I have been told there is a book out there describing the many scrambleable peaks in the valley. To scramble a peak means to get there even though there is no established trail. If a peak is scrambleable, it is possible to climb without ropes, etc.
So, we got up early and started the trail at 745am.
Above is the view of Baby Munday shortly after the trail begins. It was quite the trail! We had learned online the the trail was tough (extended sections of 55% slope) and I will certainly agree. The first 2 kms are a leisurely stroll along an overgrown logging road, but then there is a sharp right turn and you descend (straight down) to Airplane Creek. After crossing the creek on a fallen tree, you then go straight up the mountain. There is hardly a jog in the trail, not a single switch back. For a good hour or more, you are on 45-55% slope, often needing to be using your hands as well as your feet to climb up out of Airplane Creek valley and finally into the alpine meadows.
Here I am once we have reached the meadows, 2.5 hours into the hike.
This is where the trail ends and the 'scrambling' begins. We had predicted that it would take us longer to get to the meadows, so at this point decided to attempt 2 summits instead of just Baby Munday. Knight Peak was looking impressive to the north so we chose to bypass Baby Munday for now, and would attempt to summit it later on the way back.
Climbing up to Knight Peak with the mountains to the south as a back drop. You can see Mt. Baker, border peaks, Sleese, etc..
Pausing to admire the landscape - If you have hiked with me before, you can predict what I was thinking at this time....Ptarmigan Habitat!!!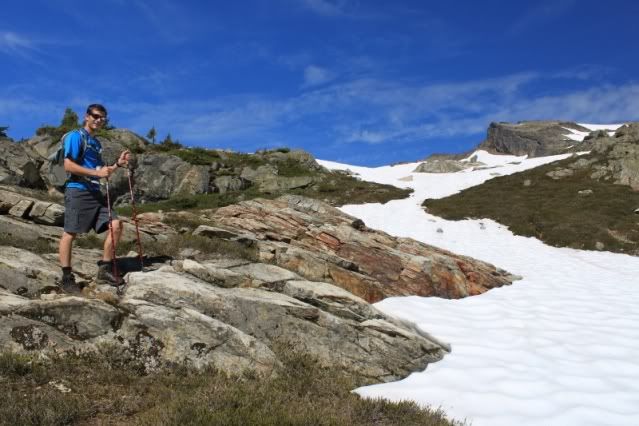 Passing Baby Munday...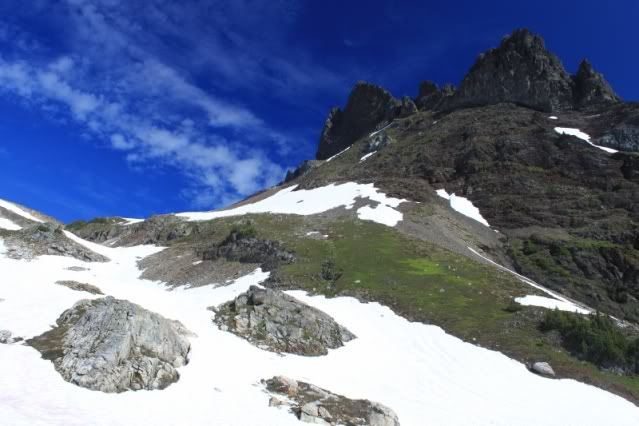 And higher.....behind John is Baby Munday and then The Still.
What is that!
Okay, here is a closer image! Bonus Points if you find it in the first picture.
We saw 5 White-tailed Ptarmigan, but no Rock Ptarmigan. The amount of ptarmigan habitat on this hike is mind-boggling. I am sure there are impressive numbers of ptarmigan up there, but we had our day's agenda full and I did not take time to explore the habitat. It sure was nice to bump into this photogenic one though.
And....what is that!
Mountain Goats! Very exciting. This is the first time I have seen them in Chilliwack! This was a group of 10 and they kept a good eye on us throughout the day!
It is a moment I will never forget. Eating lunch at the peak of Knight and watching the Mountain Goats below us. Wow.
This one goat, watched us for the 30 minutes we were at the peak. He sure was checking us out. It made me wonder how aggressive goats can be, and we quibbed a bit about my can of bear spray becoming goat spray. The good news is we never found out if they can be aggessive.
Another goat question. When we later were hiking Baby Munday, we almost stepped on (okay, maybe 75 feet away) a young goat all on its own. It already had the beginning of horns and we wondered why it was all alone so far away from the others. Does 1 male goat rule the goat herd and could this be a young male that was given the boot? Was the other group 1 male and a heirum of females? I confess that I have no knowledge of goats.
Okay, to keep this a 'bird' post, there were good numbers of American Pipits flying around.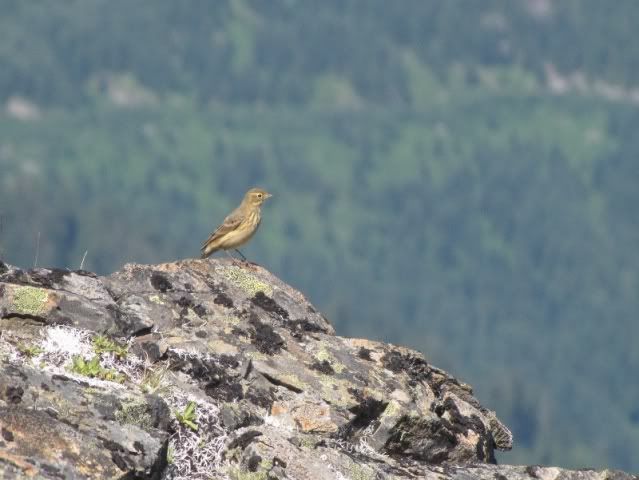 Lots of Grey-crowned Rosy-finches as well, predictably found on the edges of the melting snow sections.
Here is a pic from the peak of Knight. That is Jones Lake down there.
It is interesting looking "down at Mount Cheam", but these peaks are higher than Cheam. Here is a back view of Lady Peak (Doghead), then Mount Cheam, and finally Harrison Lake on the far right.
Then, it as off to summit Baby Munday. After several 'dead ends' (too steep) we finally found a route. Here is a picture of the peak with John standing on the very top for a sense of scale. Can you spot him?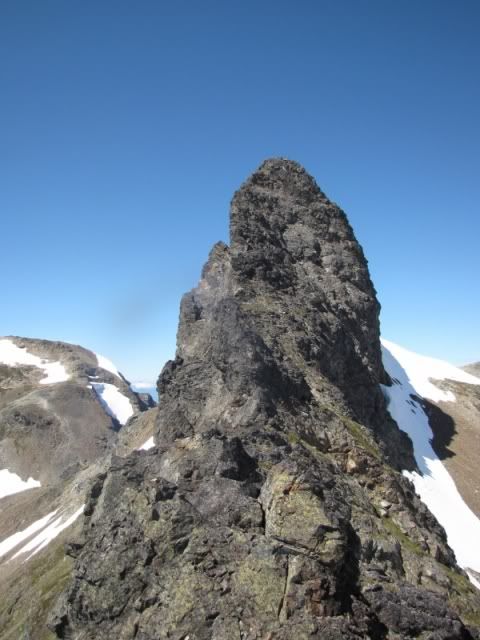 Baby Munday has 2 distinct peaks and here I am with my triumphant pose on the lower south peak.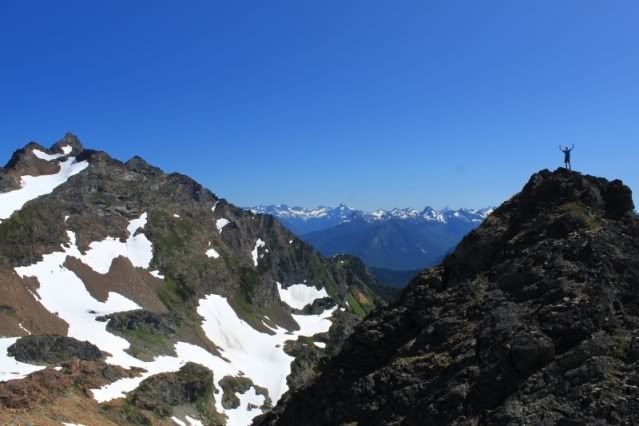 The view east from the peak of Baby Munday. The next mountain there is called "The Still" followed by "Welch Peak".
I love the view to the east. Look at the sea of mountains with Manning Park probably part of that sea.
What a beautiful area we live in. Whenever I spend a day like yesterday, I wonder why I don't spend more time exploring this area.
After savouring all the views, we attempted to gracefully head down to Airport Creek (remember that 55%??) and then back up to our vehicle again. It was a good attempt. That is all I can say.
Thanks for reading.
Dave