Post by Gord on May 7, 2011 22:51:08 GMT -8
As any parent of children knows, there seems to be always someplace to be with their activities, friends and so on and so forth. Saturday is always a busy day, and as seems to be typical of late, it was also a wet day.
On the way to dance lessons, I glanced at a little flooded bit in a field and spotted what looked to be a sandpiper. It turned out to be a Solitary Sandpiper sort of crouched under the grass. I snapped a shot more because it was doing a great job of looking pathetic in the downpour and I wanted everyone to acknowledge that fact. ;D Nice to see these guys as they're more of a fall migration sight than a spring one. This was on Hopedale Road.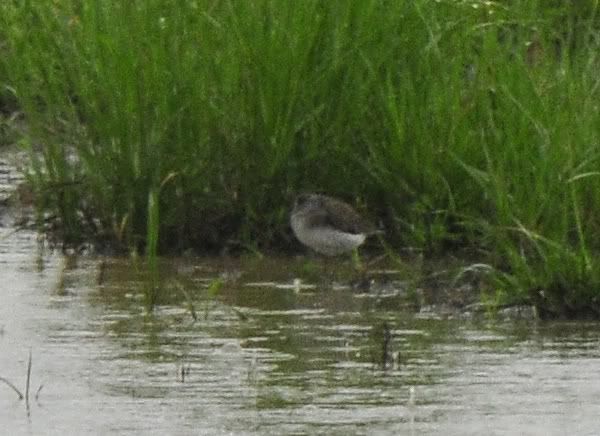 South Sumas had six little Least Sandpipers in a field near the road seen only because the children pointed out some ducks and wanted to count them.
After dance and heading to town, drove down Banford to avoid the rat race on Vedder Road. There were four Dunlin and about a dozen Least Sandpiper and a Western Sandpiper in one field that I paused to take a peek at.
Shopping, portraits and other family duties were performed. On the way home, we drove down Sumas Central Road. We pulled over to look at a flock of geese and to admire the ever present Yellow-rumped Warblers. I casually scanned the geese, gulls and ducks and saw a Greater White-fronted Goose among them. Likely the one Dave Peppar reported from Sardis Pond. These geese must be a flock of non-breeding birds.
As I panned past the geese and put the binos down, I thought something in the field looked a little different. The kids were still happy counting warblers so I knew I could have another minute to either find a clump of different coloured dirt or a bird. This time, it was a bird and I was happy I went back to look. A Long-billed Curlew was preening its feathers and just not quite blending in!! Heavily cropped photos coming up. As we were about to leave, it took flight.
There was a small flock of American Pipits as well feeding near the road.
On Adams an American Kestrel flew over the car. We checked on the Solitary Sandpiper but it was either gone or in the grass. At home a few minutes later during the unpacking of groceries a Cooper's Hawk flew over with a crow escort close behind.
Not too bad for extremely casual birding! ;D ;D ;D