Post by Gord on Oct 20, 2009 23:29:30 GMT -8
After lunch, the boys and I went out for a little walk around Harrison Lagoon. We were watching to see if the Snow Bunting was around still (unaware that Wetlander was probably looking at it as we drove!) and just to enjoy the sun before the next bout of rain.
When we got there and had a few goes down the slide, we headed off. Soon, I spotted a White-winged Scoter in the lagoon! It swam up among some Canada Geese to preen its feathers. What an amusing bird when on land! It stumbled around off balance several times. Once, the combination of hill and not-really-made-to-be-on-land got together and over he went. If you laugh when you see the photo, dont feel guilty as I couldnt help by smile broadly myself. The kids enjoyed it very much as well. The "Funny Bird" was a hit.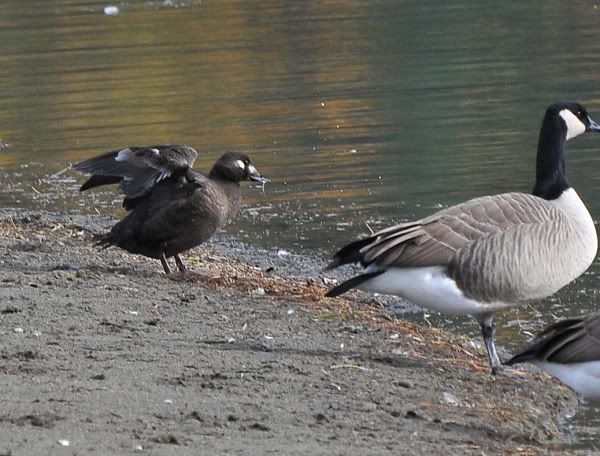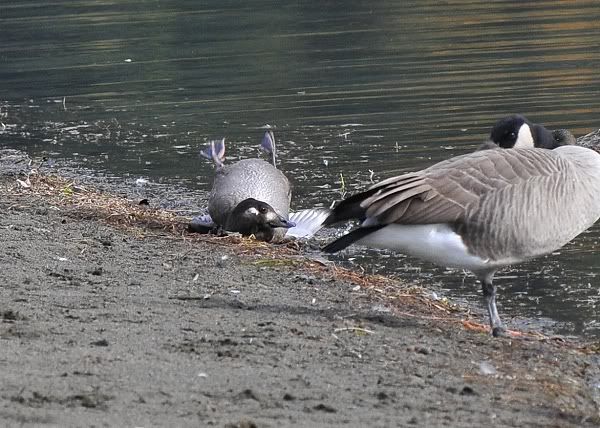 I got a little closer and while it kept an eye on us, didnt move (or was hesitant to do so! ;D ) I think the fact the geese were not worried by us helped keep it calm.
Then a couple geese got into a scrap and it had enough.
Liked these four Mallards.
After enjoying the birds in the Lagoon (there were two Ruddy Ducks as well as notable birds) we turned our attention to the lake.
Way out through my scope I saw a raft of scoters. Close to 20 were White-winged Scoters but three slightly smaller ones with lighter cheeks and dark caps caught my eye. Black Scoters!! They were very far out, almost beyond the scope's capabilities but no doubt about it. The flock was quite active with a lot of wing flapping which showed the Black Scoter's distinctive wing flapping style of holding their heads down when they do it. Further examination would produce a half-dozen Surf Scoter. I guess one does not need to go to the coast to see scoters! A few years ago I would never have guessed!!
There was also an Eared Grebe swimming and diving around. We could have also actually cleaned up on the grebes should a Clark's and Pied-billed have showed up as we had 8 Western Grebe, 1 Horned Grebe and a Red-necked Grebe.
Over by the boats to the east were another six White-winged Scoter in fairly close. In all, over 30 White-wings! Canvasback, Greater Scaup, Ring-necked Duck, Barrow's Goldeneye, Bufflehead (over 30) and 4 Common Loon rounded out the diving ducks. We didnt see the Redhead. Lots of American Wigeon in the Lagoon.
On the way back to the car, I had figured we had seen a lot of great ducks, but not a lot of seeing any Snow Buntings (borrowing Wetlander's words ;D ) But yay, right where it was supposed to be, we saw a glimpse of a small bird at the edge of the trail. This guy's a little bit sneaky! But once we knew where it was, we could spot it well. Not as good of shots as Wetlander got, but I was pleased to get some!
We went home very satisfied with our hour visit! What a fantastic place to walk and bird!