Post by Gord on May 16, 2009 16:18:31 GMT -8
Ok, I have to be honest when I say I held my head in my hands for several minutes like I would if I had an Excedrin headache over this. I was thinking do I really need to suggest a rare bird never mind another tanager species. I also feel a little sick as I think I might have let one get away, even though not entirely my fault as you will see.
For those wondering as to what the fuss is about, this is not the first time Ive sat here reporting rare tanagers.

Happily for one, a Scarlet Tanager, there is a crummy photo and also Jason was standing next to me, (also making funny sounds as we both spotted it at about the same time) to not make me look too crazy/cuckoo here.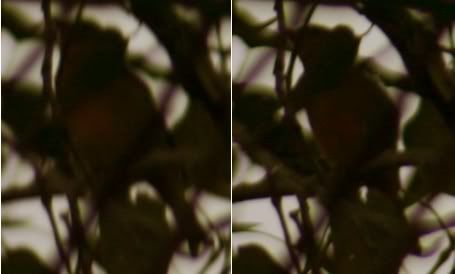 Then I also remembered the foundation of our site which encourages free sharing of information so why worry? And darn it all to pieces, there it was anyway! Dont blame me, blame the bird for sitting there! ;D
Enough fussing about.

In itself, it is a good story regardless of outcome.
This happened this afternoon at the big parking lot up front, ironically near where the above bird was seen in 2006. I was to the west when a bird flew from the trees, across the parking lot and landed in the trees before the lake. I thought, when I saw it flying with my eyes, Western Tanager although seemed a little big. I caught it in the binoculars right before it landed and my eyebrows went up. It was uniform greenish greyish on the back with the rump a tad lighter. The tail was about the same colour as the back and wings but seemed a little longer to me then a Western Tanager. What really got me wondering was the lack of any wing bars what so ever on the greenish grey wings. The greenish colour to it looked similar to a flycatcher to me but the body shape, posture and behaviour was completely wrong. Western Tanagerish, but too big and colour wrong. It preened its feathers a couple times and seemed to dip its tail down a couple times too but might have just been movement from the preening. I did not find any information if the species has a habit of doing so. Sibley's says the tail is often raised but I cannot honestly say I saw it doing this. At the distance I was I could not see a big bill, but the head looked proportionally large to me. All this happened in about a minute and as yet, I was still trying to make it a common bird like a female Brown-headed Cowbird or that it was just the light. But it was fairly active and gave me views from a few angles and in different light. All confirmed I was not seeing shadows.
I decided it was high time to move closer for a better inspection. However, there was a lady with her dog just coming down from the dyke between me and the bird. I did not want to charge over there (Im sure I had the "ohh, this is an interesting bird!" gleam in my eye and nostrils flared) with binoculars and a camera, so I danced around impatiently (sort of like my little guys do when it's time to visit the bathroom but dont want to stop doing what they're doing) for her to pass. After what seemed to be an eternity, I headed over with purpose. By now, the bird had moved a little higher and towards the dyke. THEN, a car came in, with a dog hanging his head out the backseat window anticipating the impending walk, and drove over the chain gate lying on the ground making a bit of a bang. If that wasnt enough, the guy then caught his dog's neck in the window when he tried to wind it up with pooch still enjoying the breeze. The poor dog put up a terrible fuss as the owner didnt know what happened and tried to help the dog's head out, but then had to get back in and turn on the ignition to get the automatic windows to work and wind them back down. All this of course made me look away and apparently scared the bird as I saw it fly north over the dyke as I turned and I was not sure where, or if, it landed. How is that for a comedy of errors!
At the time, I was fairly casual as I could not place the bird. I ran birds through my mind but could not think what I had. For some reason, I kept thinking big, funny looking flycatcher without wingbars but mostly because of the colouring but dropped it for the time as I was a little busy.
Flipping through the book when I got home, looking to place what I saw with a bird (not the other way around which is dangerous when trying to give a mystery bird a name) is what clued me in. The picture did not seem right in Sibleys as the female looked too light and more yellowish compared to what I saw, but looking on the internet the below picture is very promising.
animals.timduru.org/dirlist/bird/misc/SudiaBirdPhoto_262-SummerTanager-Female.jpg
Anyway, take it or leave it! ;D I wish I was a little more aggressive and not as complacent as I was at the time. Darn! Usually Im all over such weired looking bird sightings. Must be this cold Im coming down with.
The soonest I can get back is tomorrow just after lunch. Hope the clouds stay to encourage no flying at night.