Post by Dave on Mar 6, 2006 19:10:47 GMT -8
Jeff, Jack and I spent the better part of Saturday birding in the Whiterock/Point Roberts area. We knew that we were a bit late for winter birds and a bit early for spring migration, but we did tally 60 different species. We were pleased with the beautiful weather and the variety. Here is a report of our findings.
We started the day driving from Chilliwack to Blackie Spit (High Tide) near White Rock. On route we tallied
Bald Eagles
, many
Red-tailed Hawk, Glaucous-winged Gull, Great Blue Heron, Trumpeter Swan, Northwest Crow, American Robin, Rock Dove, Red-winged Blackbird, Brewer's Blackbird, Starling, and Canada Goose.
Once we arrived in near the ocean we quickly picked up
Mallard, Northern Pintail,
and
American Wigeon
in the muddy fields.
Once at Blackie Spit, a short rain shower kept us driving around the residential area by the parking lot were we heard and saw
House Finch
and
Black-capped Chickadee
. A quick view of the ocean gave us a glimse of
Double-crested Cormorant.
The shower passed over and we started the cold walk around Blackie Spit. We met
Thayer's Gull
and
Mew Gull
fairly quickly, with views of
Red-Necked Grebe, Horned Grebe, Bufflehead, and Common Loon
.
What is the Gull in the background of this picture?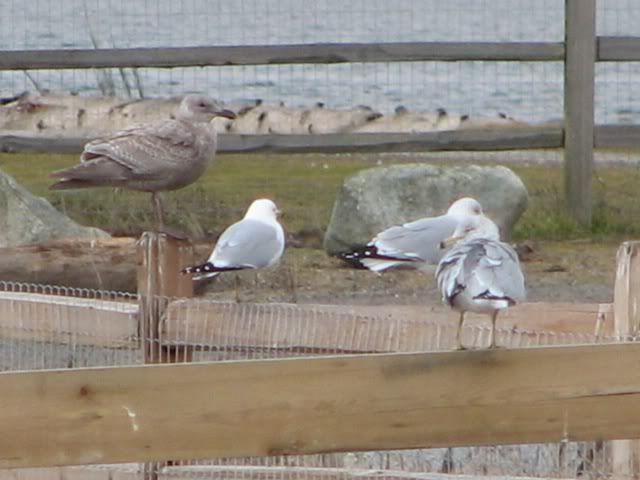 Calling Gull experts: What is this mixed-up guy.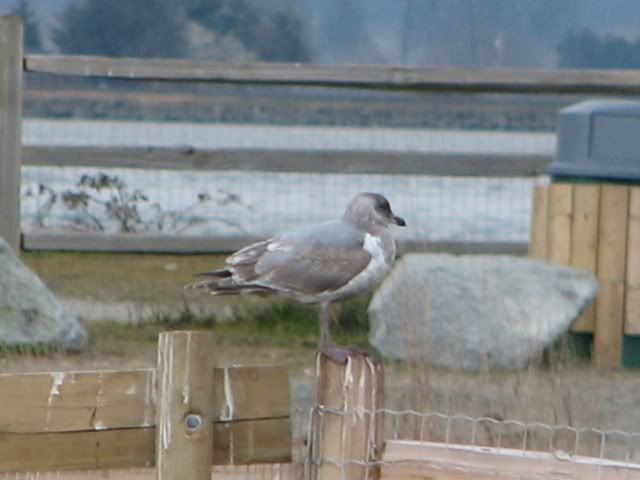 Walking out to the end of the Spit, Jeff's sharp eyes picked out a red-head on one of the wigeon, which could be nothing less than an
Eurasion Wigeon
.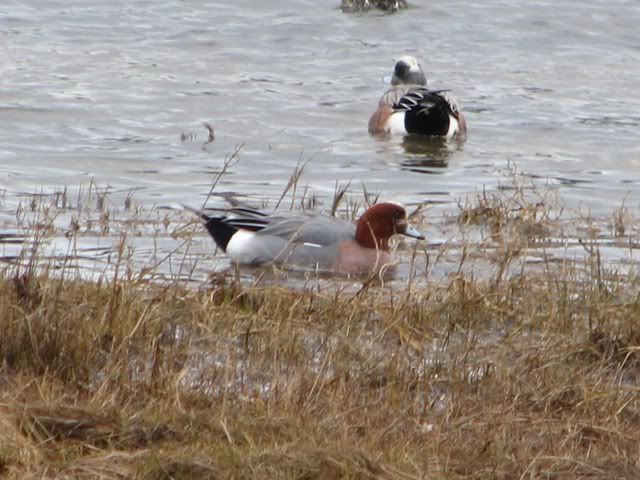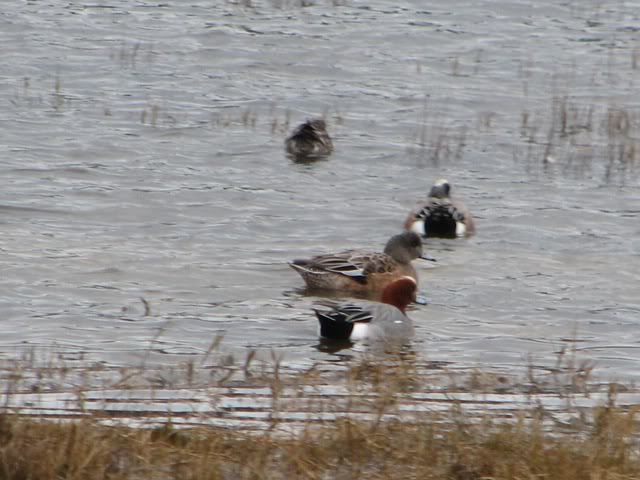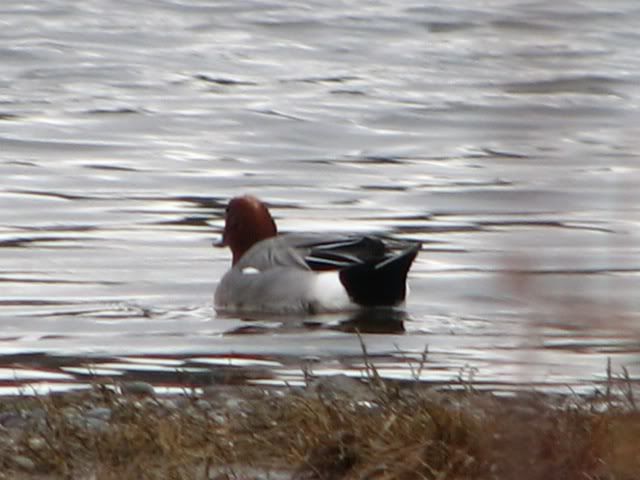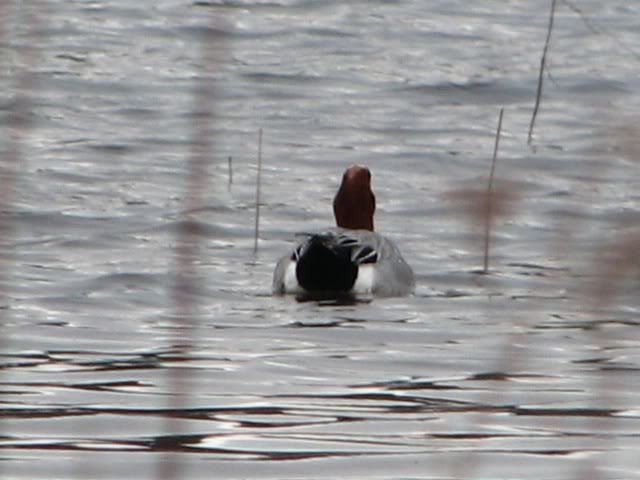 While examining the wigeon and
Green-Winged Teal, 2 Long-billed Dowitchers
gave their distinctive call, and offer us brief but good views.
We then headed to the wooded area next to the spit were we saw several
Fox Sparrow, Song Sparrow, Spotted Towhee
, and the odd chickadee. 2
Winter Wrens
gave close views in nearby blackberry tangles.
Once we made it to the Farm Slough area, we added
Scaup
and
Killdeer
, and then 2
Marbled Godwit
gave us a splendid surprise visit. One flew into my scope view while I was scoping ducks.
What a bill on this large shorebird. I have seen many of these in California, but this was the first time I had seen Marbled Godwit in BC. It was a lifer for Jeff, so it gave us plenty of excitement. ;DI apologize for the picture quality. The birds camouflauge very well, and they were at a good distance for the camera. Shortly after, Jeff spotted
Greater Yellowlegs
in the general area.
We then drove to White Rock waterfront and walked the pier.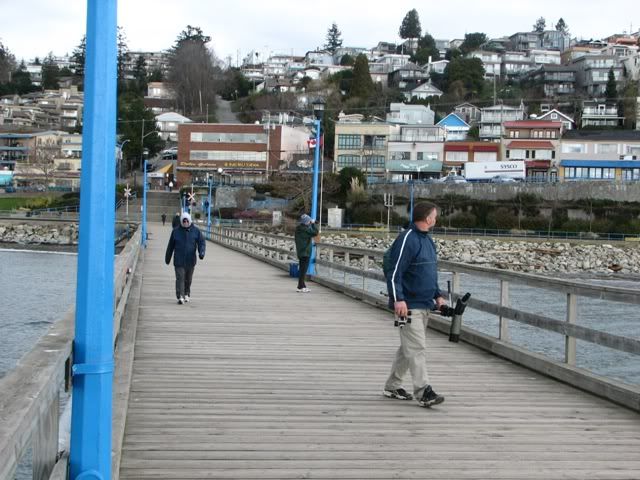 All three scoters were everywhere. Most were
White-winged Scoter
, a large number of
Surf Scoter
, and the odd
Black Scoter
. There were lots of loons swimming around with the buffleheads and mixture of gulls. We did spot a beautiful
Western Gull
off by itself near the parking area.
We were surprised to find a
Sharp-shinned Hawk
sitting on the rocks at the far end of the pier. We were told by one of the locals that the bird is usually there. There were a number of
Western Grebe
swimming in deeper water off the end of the pier.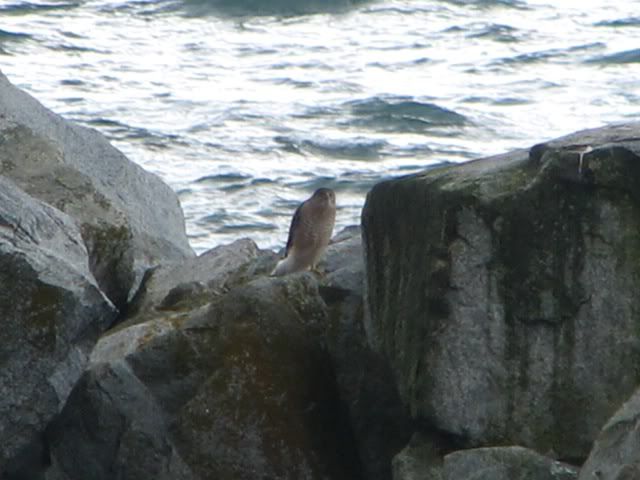 Jeff did a good job finding the highlight bird of the trip, the wonderfully loved
House Sparrow
around this time.

We then travel back to Hwy 99 and headed to Boundary Bay via 72nd street. We picked up
Common Goldeneye
and
Belted Kingfisher
just out of Whiterock.
Jeff claims he saw Rough-legged Hawk on the way to 72nd street, but it was one of the those things were one guy out of 3 spots and identifies it......











After some quizzing, we did write it down

Once we turned onto 72nd street, the bushes yeilded chickadees,
Ruby-crowned Kinglet
, and a bush full of
Bushtits.
A little farther down the street,
Lesser Yellowlegs
gave us good views before flying over our vehicle.
Yellow-rumped Warbler
gave us reason to stop as well.
The usually productive bushes next to the last farm before the dyke gave us the usual sparrows. A flock of
White-crowned Sparrows
, with the odd
Golden-crowned Sparrow
.
We added
Northern Harrier
before reaching the dyke, as well as this Red-tailed enjoying the sun.
Once on the dyke, I struck up a conversation with a birder walking in the opposite direction. I rudely interrupted this polite gentleman when a
Western Meadowlark
flew over his head and landed on a nearby tree, giving great views. The good news is the man was also interested in the meadowlark.
We walked down the dyke (the tide was quite low at this point) and shortly met 11
Snowy Owls
, but not much more, besides the usual ducks and starlings.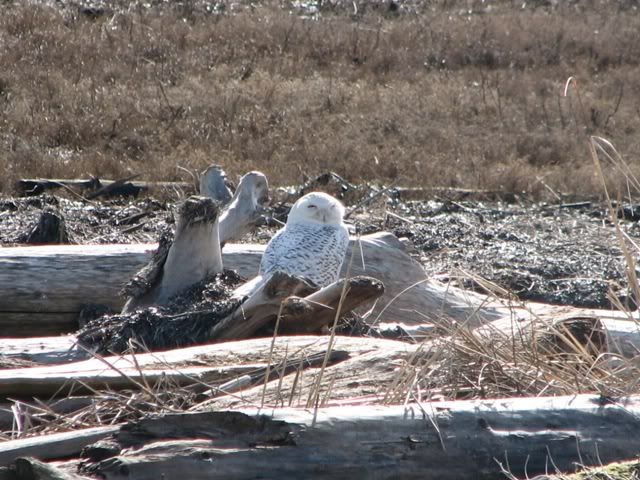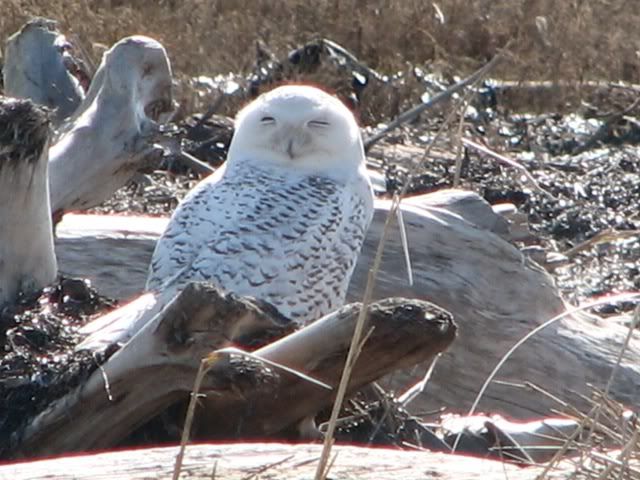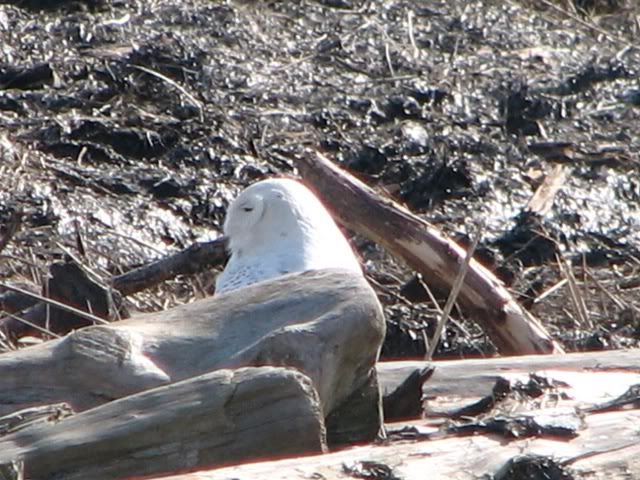 We headed to Point Roberts, picked up lunch, as well as
Dunlin
and
Oregon Junco
. At Point Roberts, there were many Common Loons, one
Red-throated Loon
on a flyby, lots of Double-Crested Cormorants,
Red-Breasted Merganser
, and
Harlequin Duck.
We also say
Cooper's Hawk
before heading back to Canada and home to Chilliwack.