Post by Gord on Mar 23, 2006 21:26:09 GMT -8
Had an meeting in Surrey at lunch time, so figured I'd leave early and check out my old stomping grounds on Boundary Bay area for old time's sake.
Got to the bay at 8:00. It was windy with a sprinkle or two, but not bad. I was scared from the reports that it would be a very wet morning.
First thing I saw near 104th was a huge flock of about 1000 wigeon grazing in the grass. I checked with the binoculars, and there were little burgundy red heads bobbing around everywhere!!! I counted 37 males, and about 6 female Eurasian wigeon before the skittish flock flew!! That is the most Eurasian wigeon Ive ever seen in one place. Here's a sample of what I was looking at. I have a wide angle shot that has 18 in it, bit it's too big to put on here. All in all from my day out there, I counted 68 Eurasian wigeon, but there were probably more as I didnt take the time to check closely enough for all the females that were no doubt missed.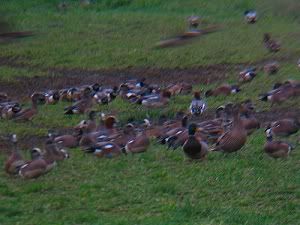 I decided to head for my favorite area to see if there's any short-eared owls about, and also check on any last snowy owls. On the way down 72nd, a pair of Eurasian wigeon were fairly close to the road. I took a picture through the scope of female American and Eurasian wigeon (female American on the left). The rufous head is quite apparent over the American's grayer head that contrasts with the breast.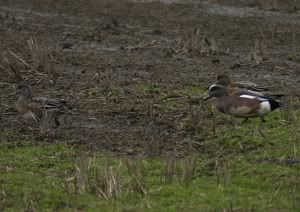 Also in this field was an American x Eurasian hybrid male. Looks like it could have backcrossed with a pure Eurasian as there isnt a lot of American fieldmarks that are apparent. You never know though.
Got to the end of 72nd. I was the only car there.

Walked around and found more snowy owls than I expected. I counted 14, 11 of whom were in the golf course. Probably used to hiding out there from the photographers and dogs.
Got some pictures of the ones on the foreshore. Im very pleased with the results in low light. I didnt leave the dyke for all of these pictures. Some are with the SLR, some through the scope. The ones further away offered scenic pictures. Take what you're given I always say...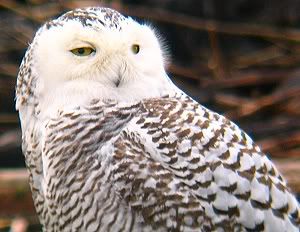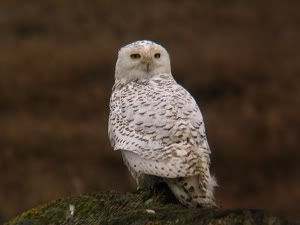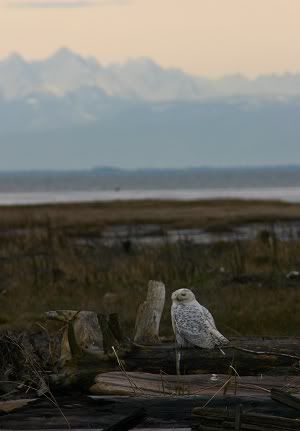 Here was a group in the golf course. They seemed pretty tolerant of the grounds keepers cruising around on their lawnmowers.
Just as I was finishing up looking at and photographing the owls, the only other person on the dyke, a jogger, showed up, with his furry friend. Looks like furry friend had been in the water as he was soaking wet! He was very friendly, but I didnt want him soaking or stepping on my gear I had spread out, and in general, I dont appreciate other peoples dogs running loose in public for many good reasons (as Im sure Ive complained about here before). As often is the case, the owner was quite a distance away, and the dog didnt respond to him calling the dog back. I mentioned, in good humour, 'where's the leash?' He smugly shouted back that 'someone' said they didnt need to leash their dogs here.



I told him I doubted the accuracy of that advice and that I prefer that people respect others on public land if he didnt mind. Apparently he had a problem with courtesy, so he ended up following my suggestion of heading in the direction opposite to mine. Ugh! Some people!
On the way back to my car, a great blue heron jumped up from the side of the ditch with a mouse or vole wiggling in its beak! I also heard a meadowlark singing somewhere down the dyke. I couldnt see it.
As I was driving out and contemplating my next stop, there was a nice heron right next to the road. I managed a shot or two.
Right before Hwy 17, a sweet peregrine falcon was cruising around on the wind before landing in the field. What a beauty!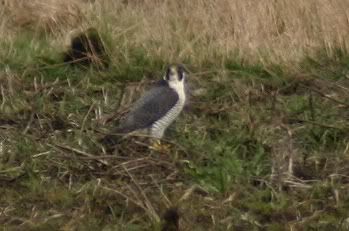 I thought Id head towards Brunswick Point to check on any swamp sparrows. I stopped at 41B St to look around and saw a suspicous falcon on a pile of soil about 450 yds out. It turned out to be a gyrfalcon! I tried a picture, but it turned out horrible thanks to distance, light and the wind (Ill get back to you if I can think of any more excuses). It was a dark phase bird. One good fieldmark for gyrfalcons is the tail. It's very long, and sticks well out from the wing tips on a perched bird.
Almost to Brunswick, I stopped to look at a couple western meadowlarks when I spotted this young northern shrike. One of the better pictures Ive obtained of these guys!
Not much further along, there were a lot of snow geese feeding in a field. They must be thinking about going north soon no doubt.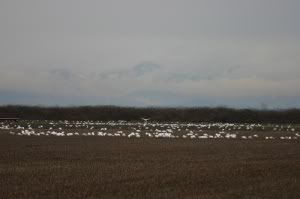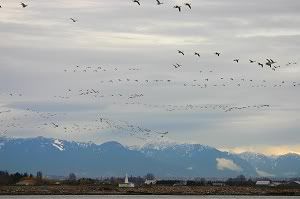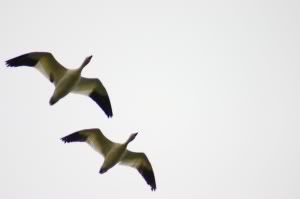 I checked around briefly, and ran into the only other birder I saw this morning. It turned out to be Tom Plath and I was pleased to finally meet him! He said there was an American tree sparrow around earlier that morning. He was looking around for a Clark's grebe that was first seen on Tuesday. Wish I had more time to look for it, but it was time for my meeting.
It was a good morning! I sure miss when I lived closer and had the bonus of doing a school study in the area.
Sorry for the long report and all the pictures!!