Post by paulos on Apr 9, 2021 15:40:18 GMT -8
It's never a bad time to go birding, so on my way moving from Creston to the 100 Mile House area in February I detoured with my Uhaul through Penticton to do some gull watching. I was treated to a lifer Lesser Black-backed Gull and a young Glaucous Gull.

I arrived in the Cariboo in what was still very much a cold winter, with only a few resident chickadees, woodpeckers and the like. I did find a Northern Hawk Owl along the highway near Lac la Hache (only my second).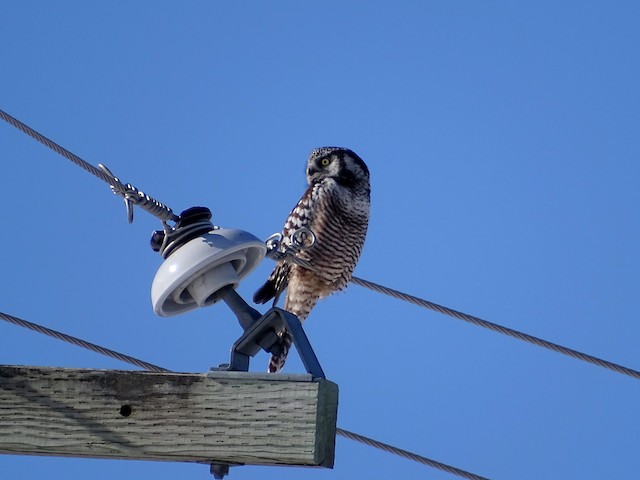 A Common Redpoll in March. These are especially abundant in the wetter areas east of 100 Mile House.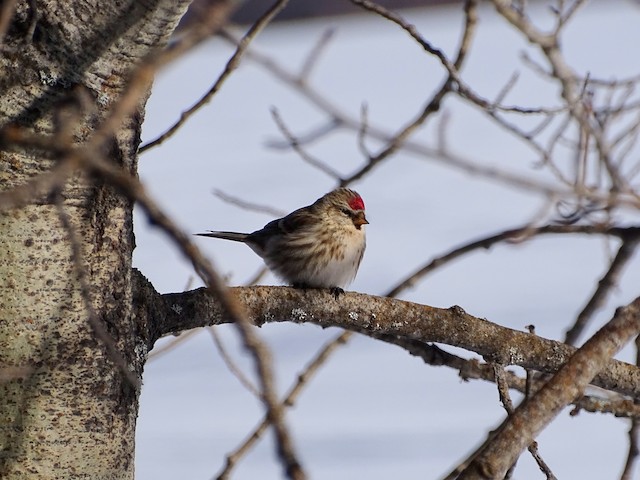 I'm situated in 108 Mile Ranch, close to Walker Valley. A recent burn a few years ago has left some charred trees to the west, but I was surprised to hear and then see a Black-backed Woodpecker on my side of the valley that landed in my yard!

Fortunately a shallow pond in Walker Valley is one of the earlier places in the area to begin thawing. "Spring" started in March with a few open patches of water, and some Canada Geese and ducks slowly arriving. The water is still mostly frozen, but arrivals have included all manner of ducks, Trumpeter and Tundra Swans, and a flyover flock of Snow Geese. I feel that I reached a birding milestone when I identified a female Eurasian Wigeon unaccompanied by a male (On the right below. I did see a few males around too).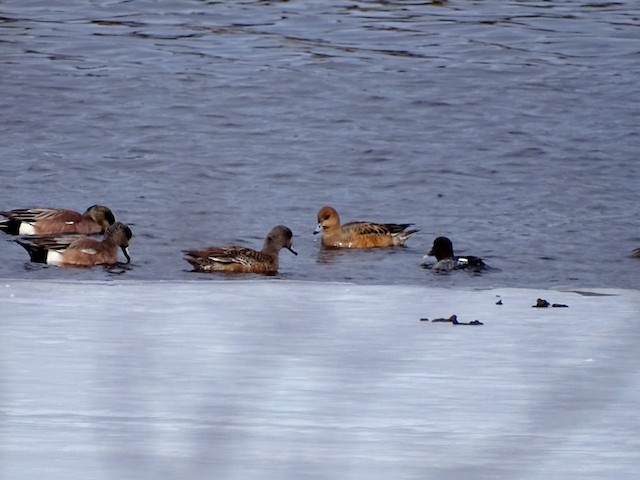 A drive through Clinton and the Dog Creek area in March yielded hundreds of Mountain Bluebirds. I also recently found a Long-billed Curlew in Clinton.

In the last couple of weeks a few Greater Yellowlegs make their appearances at the edges of still-frozen ponds. I've enjoyed the Meadowlarks, Varied Thrushes, Sandhill Cranes, swallows and other harbingers of spring. Walker Valley is a great place to see most of the seasonal newcomers.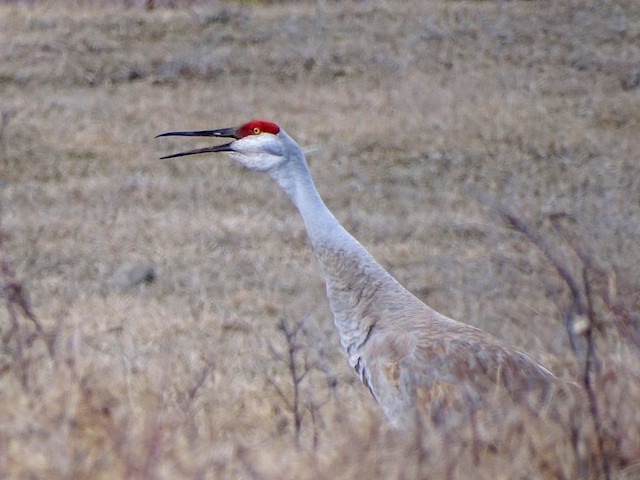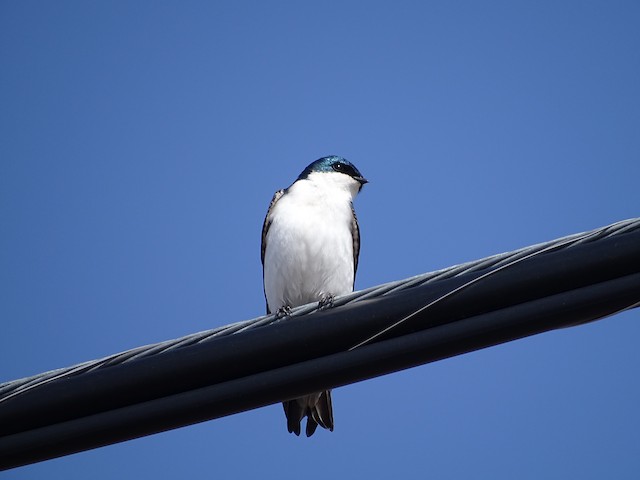 Twice I've found myself watching small migrating kettles of raptors, including Bald and Golden Eagles, Rough Legged, Red-tailed and Sharp-shinned Hawks, and recently Harriers and a Turkey Vulture (here's a favourite list from two days ago:
ebird.org/checklist/S85129944
).
Here's a photo of a presumed Harlan's Hawk from that walk. I'm working through a list of difficult bird ID challenges I continue to have. This is one of them, so I'd appreciate input if I am mistaken.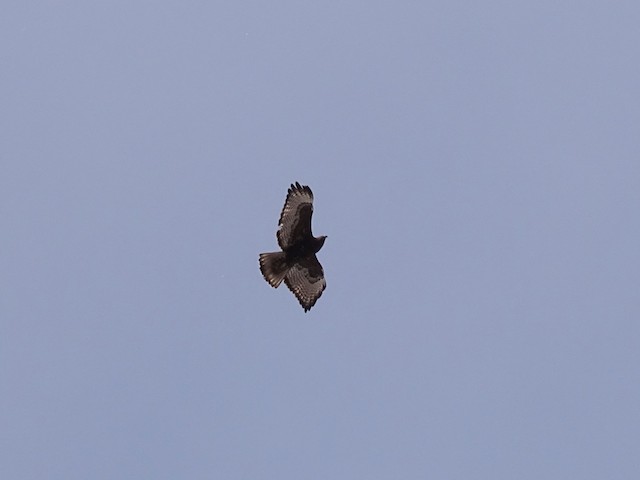 Since my arrival I've added six birds to my Cariboo list: Northern Hawk-Owl, Eurasian Wigeon, American Tree Sparrow, Tundra Swan, Golden Eagle and a rare Blue Jay at a feeder near Williams Lake. I'm excited for spring to begin in earnest. Any day might bring a Yellow-rumped Warbler, and once the ice melts a good number of shorebirds and less common waterfowl. I'll try to keep you posted!

My year Cariboo list thus far:
Snow Goose
Canada Goose
Trumpeter Swan
Tundra Swan
Wood Duck
Northern Shoveler
Gadwall
Eurasian Wigeon
American Wigeon
Mallard
Northern Pintail
Green-winged Teal
Canvasback
Redhead
Ring-necked Duck
Greater Scaup
Lesser Scaup
Bufflehead
Common Goldeneye
Barrow's Goldeneye
Hooded Merganser
Common Merganser
Ruddy Duck
Ruffed Grouse
Pied-billed Grebe
Rock Pigeon
Eurasian Collared-Dove
American Coot
Sandhill Crane
Killdeer
Wilson's Snipe
Greater Yellowlegs
Great Blue Heron
Turkey Vulture
Golden Eagle
Northern Harrier
Sharp-shinned Hawk
Bald Eagle
Red-tailed Hawk
Rough-legged Hawk
Great Horned Owl
Northern Hawk Owl
Northern Pygmy-Owl
Black-backed Woodpecker
Downy Woodpecker
Hairy Woodpecker
Pileated Woodpecker
Northern Flicker
American Kestrel
Merlin
Peregrine Falcon
Northern Shrike
Canada Jay
Steller's Jay
Blue Jay
Black-billed Magpie
American Crow
Common Raven
Black-capped Chickadee
Mountain Chickadee
Horned Lark
Northern Rough-winged Swallow
Tree Swallow
Violet-green Swallow
Golden-crowned Kinglet
Ruby-crowned Kinglet
Red-breasted Nuthatch
Brown Creeper
Marsh Wren
American Dipper
European Starling
Mountain Bluebird
Townsend's Solitaire
Varied Thrush
American Robin
Bohemian Waxwing
House Sparrow
Evening Grosbeak
Pine Grosbeak
House Finch
Common Redpoll
Red Crossbill
Pine Siskin
American Goldfinch
Lapland Longspur
American Tree Sparrow
Dark-eyed Junco
Song Sparrow
Spotted Towhee
Western Meadowlark
Red-winged Blackbird