Post by Chris on Oct 12, 2020 17:26:14 GMT -8
One morning I went for a short outing before work and I noticed a darker backed gull. Turned out to be a Lesser Black-backed Gull which was a lifer. I did not take my camera with me. However, two days later I saw it again and managed a photo. I believe it was the first record for the Peace region. Always special to find a lifer on your own.
Tree Sparrows are very common in suitable habitat during fall migration.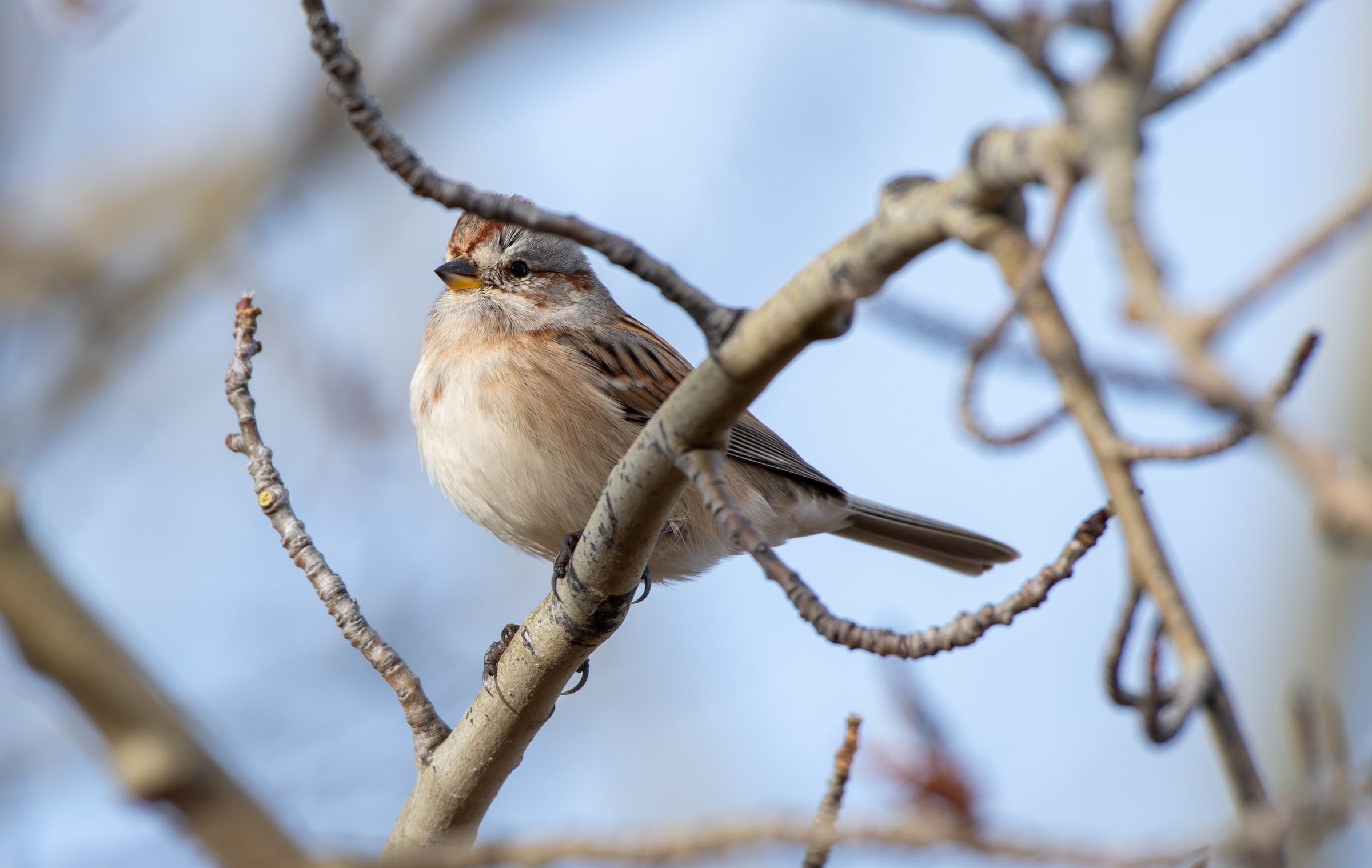 Dowitchers are one of the last shorebirds to leave
Ruffed Grouse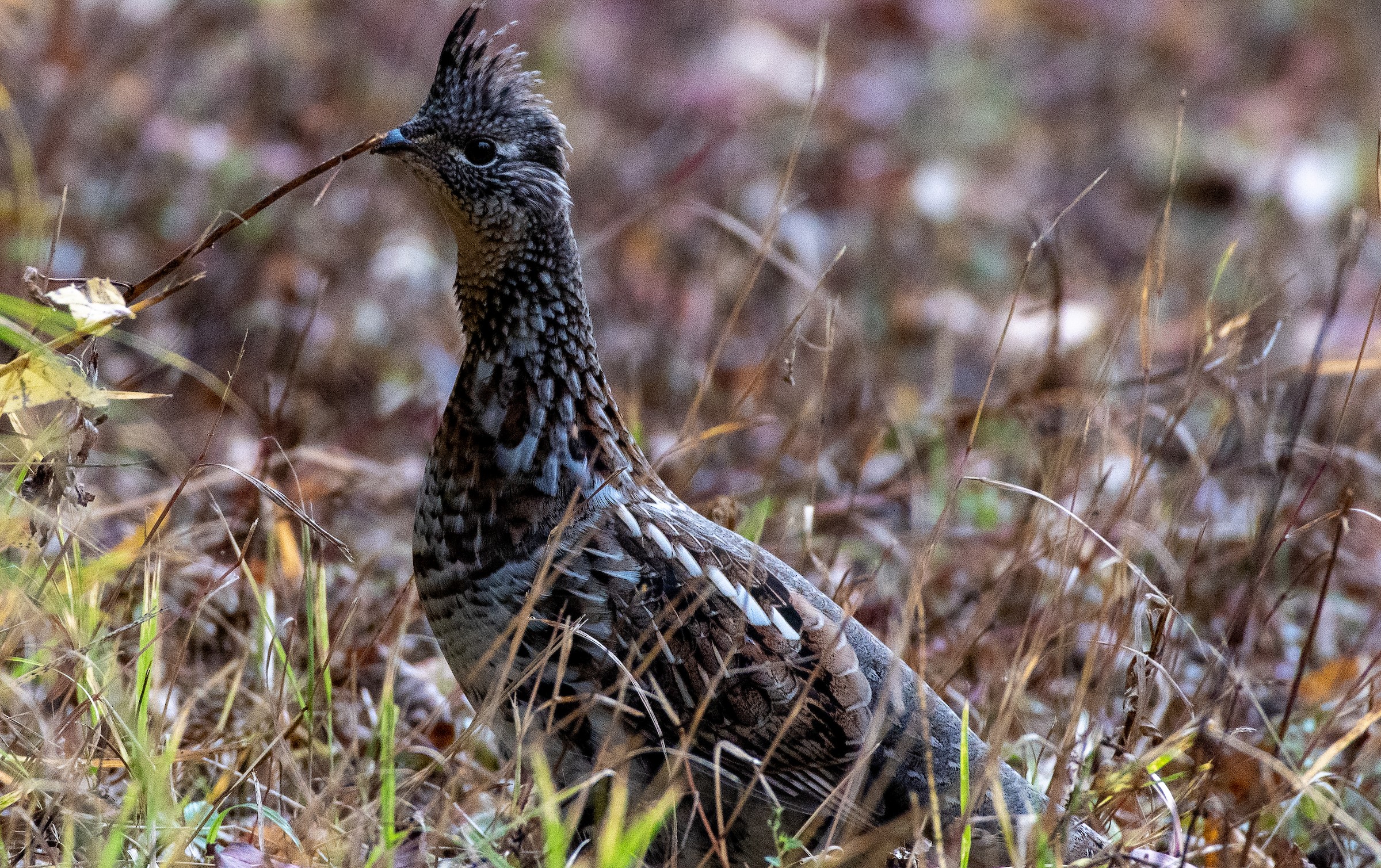 I am at 198 species for the year. Here is the list
Snow Goose
Greater White-fronted Goose
Cackling Goose
Canada Goose
Trumpeter Swan
Blue-winged Teal
Northern Shoveler
Gadwall
Eurasian Wigeon
American Wigeon
Mallard
Northern Pintail
Green-winged Teal
Canvasback
Redhead
Ring-necked Duck
Greater Scaup
Lesser Scaup
Surf Scoter
White-winged Scoter
Long-tailed Duck
Bufflehead
Common Goldeneye
Barrow's Goldeneye
Hooded Merganser
Common Merganser
Ruddy Duck
Ruffed Grouse
Sharp-tailed Grouse
Pied-billed Grebe
Horned Grebe
Red-necked Grebe
Eared Grebe
Western Grebe
Rock Pigeon
Eurasian Collared-Dove
Common Nighthawk
Sora
American Coot
Sandhill Crane
Black-bellied Plover
American Golden-Plover
Semipalmated Plover
Killdeer
Upland Sandpiper
Long-billed Curlew
Stilt Sandpiper
Baird's Sandpiper
Least Sandpiper
White-rumped Sandpiper
Pectoral Sandpiper
Semipalmated Sandpiper
Short-billed Dowitcher
Long-billed Dowitcher
Wilson's Snipe
Wilson's Phalarope
Red-necked Phalarope
Spotted Sandpiper
Solitary Sandpiper
Greater Yellowlegs
Lesser Yellowlegs
Long-tailed Jaeger
Sabine's Gull
Bonaparte's Gull
Franklin's Gull
Mew Gull
Ring-billed Gull
California Gull
Herring Gull
Iceland Gull
Lesser Black-backed Gull
Black Tern
Common Tern
Arctic Tern
Pacific Loon
Common Loon
Double-crested Cormorant
Great Blue Heron
Northern Harrier
Sharp-shinned Hawk
Cooper's Hawk
Northern Goshawk
Bald Eagle
Broad-winged Hawk
Red-tailed Hawk
Rough-legged Hawk
Great Horned Owl
Northern Hawk Owl
Northern Pygmy-Owl
Great Gray Owl
Short-eared Owl
Belted Kingfisher
Yellow-bellied Sapsucker
American Three-toed Woodpecker
Black-backed Woodpecker
Downy Woodpecker
Hairy Woodpecker
Pileated Woodpecker
Northern Flicker
American Kestrel
Merlin
Gyrfalcon
Peregrine Falcon
Olive-sided Flycatcher
Western Wood-Pewee
Yellow-bellied Flycatcher
Alder Flycatcher
Least Flycatcher
Dusky Flycatcher
Pacific-slope Flycatcher
Eastern Phoebe
Say's Phoebe
Eastern Kingbird
Blue-headed Vireo
Philadelphia Vireo
Warbling Vireo
Red-eyed Vireo
Northern Shrike
Canada Jay
Blue Jay
Black-billed Magpie
American Crow
Common Raven
Black-capped Chickadee
Boreal Chickadee
Northern Rough-winged Swallow
Tree Swallow
Violet-green Swallow
Bank Swallow
Barn Swallow
Cliff Swallow
Golden-crowned Kinglet
Ruby-crowned Kinglet
Red-breasted Nuthatch
White-breasted Nuthatch
Brown Creeper
House Wren
Winter Wren
Marsh Wren
European Starling
Varied Thrush
Swainson's Thrush
Hermit Thrush
American Robin
Bohemian Waxwing
Cedar Waxwing
House Sparrow
American Pipit
Evening Grosbeak
Pine Grosbeak
Purple Finch
Common Redpoll
Hoary Redpoll
Red Crossbill
White-winged Crossbill
Pine Siskin
Lapland Longspur
Snow Bunting
Chipping Sparrow
Clay-colored Sparrow
American Tree Sparrow
Fox Sparrow
Dark-eyed Junco
White-crowned Sparrow
White-throated Sparrow
Vesper Sparrow
LeConte's Sparrow
Savannah Sparrow
Song Sparrow
Lincoln's Sparrow
Swamp Sparrow
Yellow-headed Blackbird
Baltimore Oriole
Red-winged Blackbird
Brown-headed Cowbird
Rusty Blackbird
Brewer's Blackbird
Common Grackle
Ovenbird
Northern Waterthrush
Black-and-white Warbler
Tennessee Warbler
Orange-crowned Warbler
Connecticut Warbler
Mourning Warbler
Common Yellowthroat
American Redstart
Cape May Warbler
Magnolia Warbler
Bay-breasted Warbler
Yellow Warbler
Blackpoll Warbler
Yellow-rumped Warbler
Black-throated Green Warbler
Canada Warbler
Wilson's Warbler
Western Tanager
Rose-breasted Grosbeak